Topic Resources
Bullous keratopathy is an eye disorder that involves a blister-like swelling of the cornea (the clear layer in front of the iris and pupil).
Symptoms include sensitivity to bright light, blurred vision, and intermittent feeling of a foreign object in the eye.

Doctors diagnose bullous keratopathy based on the appearance of the person's cornea.

Treatment can include eye drops to draw the excess fluid from the cornea, drugs to lower pressure in the eye, and corneal transplantation.
Bullous keratopathy is most common among older people. It can occur by itself, may run in families, and, occasionally, occurs after eye surgery, such as cataract removal Treatment A cataract is a clouding (opacity) of the lens of the eye that causes a progressive, painless loss of vision. Vision may be blurred, contrast may be lost, and halos may be visible around lights... read more
.
The Cornea, Pupil, and Iris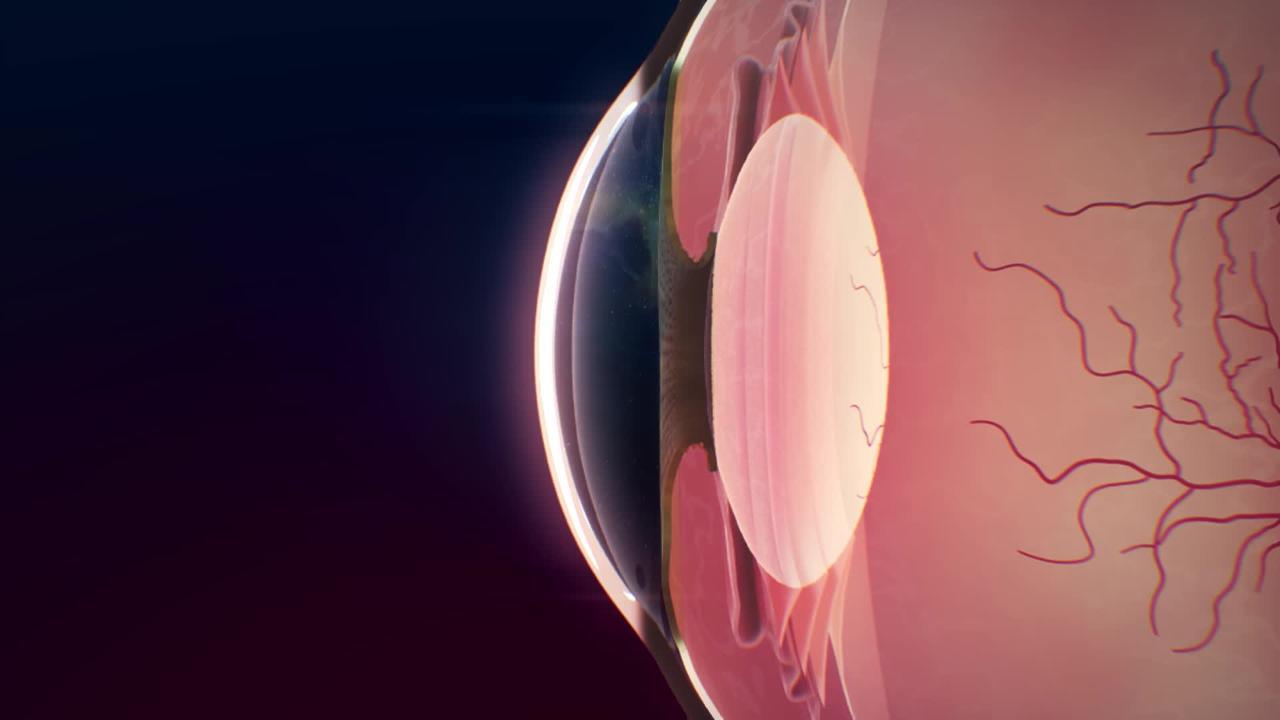 Symptoms of Bullous Keratopathy
The swelling leads to the formation of fluid-filled blisters on the surface of the cornea. Sensitivity when looking at bright lights and significant blurring of vision can result. The blisters can rupture, causing severe pain, often with the sensation of a foreign object trapped in the eye, and can further impair vision.
Symptoms are usually worse upon awakening because moisture accumulates when the eyes are closed. As the day wears on, the affected eye dries out as moisture evaporates, causing symptoms to resolve.
Diagnosis of Bullous Keratopathy
Treatment of Bullous Keratopathy
Drugs to lower pressure in the eye

Sometimes soft contact lenses

Sometimes corneal transplantation
Bullous keratopathy is treated by an ophthalmologist (a medical doctor who specializes in the evaluation and treatment—surgical and nonsurgical—of eye disorders).
Salty eye drops (hypertonic saline) and salty ointments (hypertonic sodium chloride) are used to draw the excess fluid from the cornea.
Drugs that lower the pressure in the eye are sometimes given.
On occasion, soft contact lenses can be used for a short period of time to decrease discomfort by acting as a bandage to the cornea.
Drugs Mentioned In This Article
| Generic Name | Select Brand Names |
| --- | --- |
| fluorescein | AK-Fluor, Bio Glo, Fluorescite, Fluorets , Fluor-I-Strip, Fluor-I-Strip A.T., Ful-Glo, Ophthalmicflur |
| sodium chloride | 4-Way Saline, Adsorbonac, Altamist, Ayr Allergy & Sinus, Ayr Baby Saline, Ayr Saline Nasal, BD Posiflush Normal Saline, BD Posiflush Sterile Field Normal Saline, BD Posiflush SureScrub Normal Saline, Blairex Broncho Saline, Breathe Free Saline, Deep Sea , Entsol, HyperSal, Hyper-Sal, Hypertears, Little Remedies for Noses, Little Remedies Stuffy Nose, Monoject Sodium Chloride, Muro 128, NebuSal , Ocean, Ocean Complete, Ocean For Kids, Pediamist, PULMOSAL, Rhinaris, Rhinaris Lubricating, Saljet , Saljet Rinse, SaltAire, Sea Soft, Trichotine, Wound Wash, XYNASE, ZARBEE'S Soothing Saline Nasal Mist |
VIEW PROFESSIONAL VERSION