Topic Resources
Symptoms of Aortic Regurgitation
Mild aortic regurgitation causes no symptom other than a characteristic heart murmur that can be heard with a stethoscope each time the left ventricle relaxes. People with severe regurgitation may develop symptoms when heart failure results.
Heart failure Heart Failure (HF) Heart failure is a disorder in which the heart is unable to keep up with the demands of the body, leading to reduced blood flow, back-up (congestion) of blood in the veins and lungs, and/or... read more
causes shortness of breath during exertion. Lying flat, especially at night, makes breathing difficult. Sitting up allows backed-up fluid to drain out of the upper part of the lungs, restoring normal breathing. About 5% of people with aortic regurgitation have chest pain due to an inadequate blood supply to the heart muscle (angina Angina Angina is temporary chest pain or a sensation of pressure that occurs while the heart muscle is not receiving enough oxygen. A person with angina usually has discomfort or pressure beneath the... read more ), especially at night.
The pulse, sometimes called a collapsing pulse, is momentarily strong, then disappears quickly because the blood leaks backward through the aortic valve into the heart, causing blood pressure to decrease sharply.
Diagnosis of Aortic Regurgitation
The diagnosis is based on the results of a physical examination (such as the collapsing pulse and characteristic heart murmur) and confirmed by echocardiography Echocardiography and Other Ultrasound Procedures Ultrasonography uses high-frequency (ultrasound) waves bounced off internal structures to produce a moving image. It uses no x-rays. Ultrasonography of the heart (echocardiography) is one of... read more
. Echocardiography also shows the severity of the regurgitation and whether the heart muscle has been affected. If echocardiography results suggest the aorta is widened, doctors often do computed tomography Computed Tomography (CT) of the Heart Computed tomography (CT) may be used to detect structural abnormalities of the heart, the sac that envelops the heart (pericardium), major blood vessels, lungs, and supporting structures in... read more (CT) or magnetic resonance imaging Magnetic Resonance Imaging (MRI) of the Heart With magnetic resonance imaging (MRI), a powerful magnetic field and radio waves are used to produce detailed images of the heart and chest. This expensive and sophisticated procedure is used... read more (MRI) to detect aortic dissection.
Chest x-ray and electrocardiography Electrocardiography Electrocardiography (ECG) is a quick, simple, painless procedure in which the heart's electrical impulses are amplified and recorded. This record, the electrocardiogram (also known as an ECG)... read more
(ECG) usually show signs of an enlarged heart. Coronary angiography Coronary angiography Cardiac catheterization and coronary angiography are minimally invasive methods of studying the heart and the blood vessels that supply the heart (coronary arteries) without doing surgery. These... read more
is done before surgery because about 20% of people with severe aortic regurgitation also have coronary artery disease Overview of Coronary Artery Disease (CAD) Coronary artery disease is a condition in which the blood supply to the heart muscle is partially or completely blocked. The heart muscle needs a constant supply of oxygen-rich blood. The coronary... read more
. First-degree relatives (that is, parents, siblings, or children) of people with a bicuspid valve should also be screened because 20 to 30% will be similarly affected.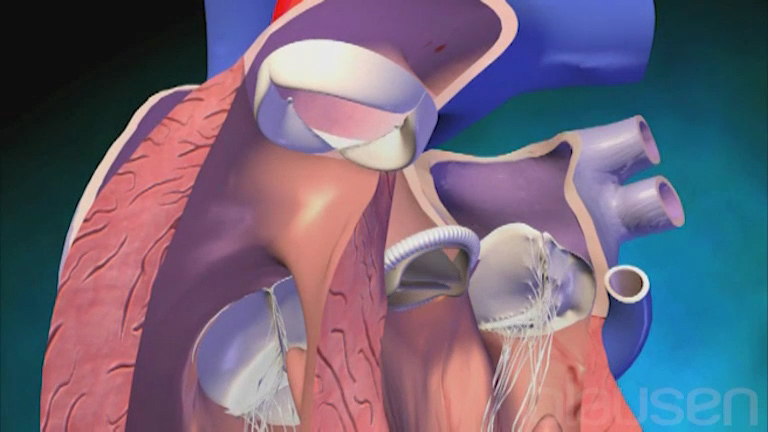 Treatment of Aortic Regurgitation
Valve repair or replacement
Drug treatment is not especially effective in slowing the progression of heart failure and does not eliminate the need for timely valve repair or replacement.
Echocardiography is done periodically to determine how rapidly the left ventricle is enlarging, which will help doctors determine when surgery should be done. The damaged valve should be surgically repaired or replaced with an artificial valve before the left ventricle becomes irreversibly damaged.
People who have had a valve replacement are given antibiotics before surgical, dental, or medical procedures (see table Examples of Procedures That Require Preventive Antibiotics Examples of Procedures That Require Preventive Antibiotics in the United States*
) to reduce the risk of infection of the heart valve.
More Information
The following is an English-language resource that may be useful. Please note that THE MANUAL is not responsible for the content of this resource.
VIEW PROFESSIONAL VERSION