Topic Resources
Mitral stenosis is a narrowing of the mitral valve opening that blocks (obstructs) blood flow from the left atrium to the left ventricle.
Mitral stenosis usually results from rheumatic fever, but infants can be born with the condition.

Mitral stenosis does not cause symptoms unless it is severe.

Doctors make the diagnosis after hearing a characteristic heart murmur through a stethoscope placed over the heart, and they use echocardiography to make a more detailed diagnosis.

Treatment begins with use of diuretics and beta-blockers or calcium channel blockers.

The valve can be stretched open with a catheter, but occasionally the valve needs to be replaced, requiring open-heart surgery.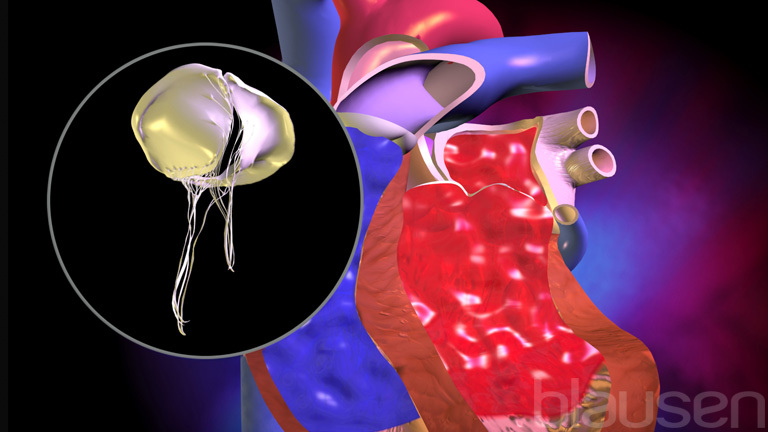 The mitral valve is in the opening between the left atrium and the left ventricle. The mitral valve opens to allow blood from the left atrium to fill the left ventricle and closes as the left ventricle contracts to prevent blood from flowing back into the left atrium as the ventricle pumps blood into the aorta. If a disorder causes the valve flaps to become thick and stiff, the valve opening is narrowed. Sometimes the stiffened valve also fails to close completely, and mitral regurgitation Mitral Regurgitation Mitral regurgitation is leakage of blood backward through the mitral valve each time the left ventricle contracts. Disorders directly affecting the mitral valve and heart attack are the most... read more
develops.
In mitral stenosis, blood flow through the narrowed valve opening is reduced. As a result, the volume and pressure of blood in the left atrium increases, and the left atrium enlarges. The enlarged left atrium often beats rapidly in an irregular pattern (a disorder called atrial fibrillation Atrial Fibrillation and Atrial Flutter Atrial fibrillation and atrial flutter are very fast electrical discharge patterns that make the atria (upper chambers of the heart) contract very rapidly, with some of the electrical impulses... read more ). As a result, the heart's pumping efficiency is reduced because the fibrillating atrium is quivering rather than pumping. Consequently, blood does not flow through the atrium briskly, and blood clots may form inside the chamber. If a clot breaks loose (becoming an embolus), it is pumped out of the heart and may block an artery, possibly causing a stroke Overview of Stroke A stroke occurs when an artery to the brain becomes blocked or ruptures, resulting in death of an area of brain tissue due to loss of its blood supply (cerebral infarction) and symptoms that... read more or other damage.
If mitral stenosis is severe, pressure increases in the blood vessels of the lungs, resulting in heart failure Heart Failure (HF) Heart failure is a disorder in which the heart is unable to keep up with the demands of the body, leading to reduced blood flow, back-up (congestion) of blood in the veins and lungs, and/or... read more
with fluid accumulation in the lungs and a low level of oxygen in the blood. If a woman with severe mitral stenosis becomes pregnant, heart failure may develop rapidly.
Causes of Mitral Stenosis
Mitral stenosis almost always results from
Rheumatic fever is a childhood illness that occurs after some cases of untreated strep throat Symptoms Streptococcal infections are caused by any one of several species of Streptococcus. These gram-positive, sphere-shaped (coccal) bacteria (see figure ) cause many disorders, including... read more or scarlet fever Symptoms Streptococcal infections are caused by any one of several species of Streptococcus. These gram-positive, sphere-shaped (coccal) bacteria (see figure ) cause many disorders, including... read more . Rheumatic fever is now rare in North America and Western Europe because antibiotics are widely used to treat infection. Thus, in these regions, mitral stenosis occurs mostly in older people who had rheumatic fever and who did not have the benefit of antibiotics during their youth or in people who have moved from regions where antibiotics are not widely used. In such regions, rheumatic fever is common, and it leads to mitral stenosis in adults, teenagers, and sometimes even children. Typically, when rheumatic fever is the cause of mitral stenosis, the mitral valve cusps are partially fused together.
Less often, in some older people, the valve instead degenerates and accumulates calcium deposits. In these people, mitral stenosis tends to be less severe.
Mitral stenosis can rarely be present at birth (congenital). Infants born with the disorder rarely live beyond age 2, unless they have surgery.
Symptoms of Mitral Stenosis
Mild mitral stenosis does not usually cause symptoms. Eventually the disorder progresses and people develop symptoms such as shortness of breath and becoming easily tired. People with atrial fibrillation may feel palpitations (awareness of heartbeats).
Once symptoms start, people become severely disabled in about 7 to 9 years. Shortness of breath may occur even during rest. Some people can breathe comfortably only when they are propped up with pillows or sitting upright. Those people with a low level of oxygen in the blood and high blood pressure in the lungs may have a plum-colored flush in the cheeks (called mitral facies).
People may cough up blood (hemoptysis) if the high pressure causes a vein or capillaries in the lungs to burst. The resulting bleeding into the lungs is usually slight, but if hemoptysis occurs, the person should be evaluated by a doctor promptly because hemoptysis indicates severe mitral stenosis or another serious problem.
More Information
The following is an English-language resource that may be useful. Please note that THE MANUAL is not responsible for the content of this resource.
Drugs Mentioned In This Article
| Generic Name | Select Brand Names |
| --- | --- |
| digoxin | Digitek , Lanoxicaps, Lanoxin, Lanoxin Pediatric |
VIEW PROFESSIONAL VERSION