Topic Resources
Fanconi syndrome is a rare disorder of kidney tubule function that results in excess amounts of glucose, bicarbonate, phosphates (phosphorus salts), uric acid, potassium, and certain amino acids being excreted in the urine.
Fanconi syndrome is unrelated to—and should not be confused with—Fanconi anemia.
Fanconi syndrome may be hereditary or may be caused by
The Nephrons, Glomeruli, and Tubules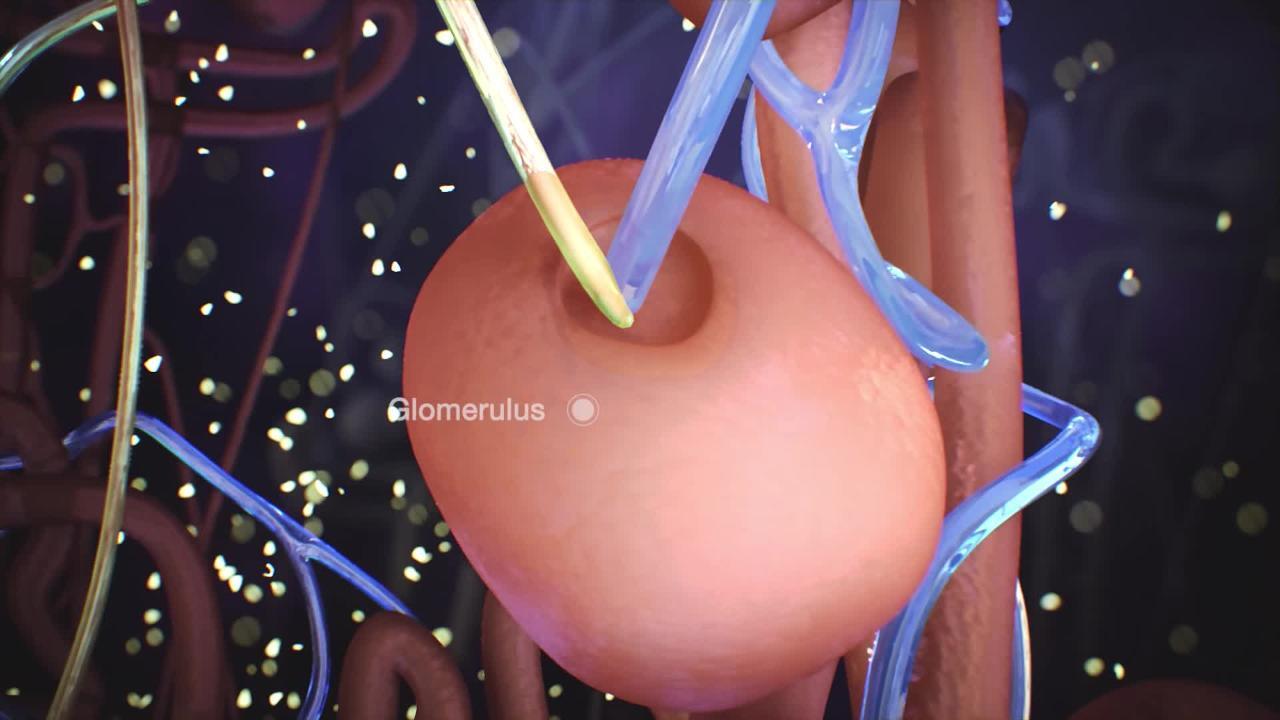 Symptoms of Fanconi Syndrome
In hereditary Fanconi syndrome, symptoms of excessive drinking and excessive urination usually begin during infancy.
In adults, symptoms may not develop until the disorder has been present for some time. The most common symptoms in adults include weakness and bone pain.
Most often, some damage to bones or kidney tissue has occurred before the diagnosis is made.
Diagnosis of Fanconi Syndrome
The symptoms and a test that shows abnormalities in the blood (such as a high level of acid) or urine (such as a high level of glucose) may lead a doctor to suspect Fanconi syndrome. The diagnosis is confirmed when high levels of glucose (despite a normal blood glucose), phosphates, and amino acids are detected in the urine.
More Information
The following is an English-language resource that may be useful. Please note that THE MANUAL is not responsible for the content of this resource.
Drugs Mentioned In This Article
| Generic Name | Select Brand Names |
| --- | --- |
| vitamin d | Calcidol, Calciferol, D3 Vitamin, DECARA, Deltalin, Dialyvite Vitamin D, Dialyvite Vitamin D3, Drisdol, D-Vita, Enfamil D-Vi-Sol, Ergo D, Fiber with Vitamin D3 Gummies Gluten-Free, Happy Sunshine Vitamin D3, MAXIMUM D3, PureMark Naturals Vitamin D, Replesta, Replesta Children's, Super Happy SUNSHINE Vitamin D3, Thera-D 2000, Thera-D 4000, Thera-D Rapid Repletion, THERA-D SPORT, UpSpring Baby Vitamin D, UpSpring Baby Vitamin D3, YumVs, YumVs Kids ZERO, YumVs ZERO |
| sodium bicarbonate | Alka-Seltzer Heartburn Relief, Baros, Neut |
VIEW PROFESSIONAL VERSION