Topic Resources
The pancreas Pancreas The pancreas is an organ that contains two types of glandular tissue: Pancreatic acini Islets of Langerhans (See also Overview of the Digestive System.) The acini produce digestive enzymes.... read more
is an organ located in the upper part of the abdomen. It produces digestive juices that are secreted into the digestive tract. The pancreas also produces insulin, which helps control blood sugar, and other hormones Endocrine Function The main function of endocrine glands is to secrete hormones directly into the bloodstream. Hormones are chemical substances that affect the activity of another part of the body (target site)... read more . Pancreatic endocrine tumors are tumors that arise from the types of pancreatic cells that produce hormones. These tumors may or may not secrete hormones themselves and may or may not be cancerous (malignant).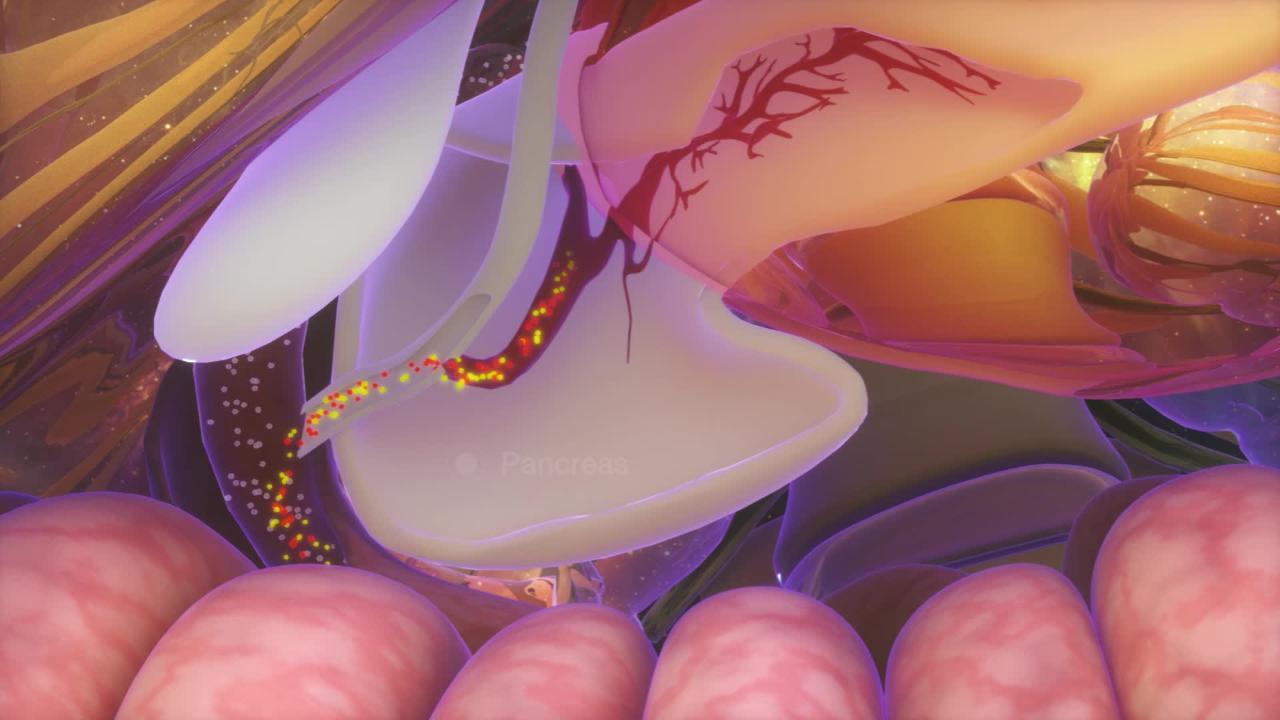 There are two types of pancreatic endocrine tumors:
Nonfunctioning tumors do not secrete hormones and are not cancerous. These tumors may cause symptoms by blocking the biliary tract or small intestine, by bleeding into the gastrointestinal tract, or by causing a mass in the abdomen.
Functioning tumors secrete large amounts of a particular hormone, causing various syndromes. Some functioning tumors are cancerous. The hormones that may be secreted and their tumor type include
Excess secretion of these hormones can also occur in a disorder called multiple endocrine neoplasia Multiple Endocrine Neoplasia Syndromes (MEN) Multiple endocrine neoplasia syndromes are rare, inherited disorders in which several endocrine glands develop noncancerous (benign) or cancerous (malignant) tumors or grow excessively without... read more
.
Treatment of Pancreatic Endocrine Tumors
Medications that block hormone effects
The treatment for both types of tumors is surgery. However, for some small, nonfunctioning tumors, doctors may only monitor them and do not remove them surgically.
People who are not candidates for surgery receive medications that block the production or actions of hormones (such as octreotide and lanreotide).
People whose cancer has spread (metastasised) may be given chemotherapy, which may lengthen survival.
Drugs Mentioned In This Article
| Generic Name | Select Brand Names |
| --- | --- |
| insulin | Afrezza, Exubera |
| glucagon | BAQSIMI, GlucaGen, Glucagon, Gvoke, Gvoke HypoPen, Gvoke PFS |
| octreotide | Bynfezia, Mycapssa, Sandostatin, Sandostatin LAR |
| lanreotide | Somatuline Depot |
VIEW PROFESSIONAL VERSION