Topic Resources
Subacute thyroiditis is acute inflammation of the thyroid, probably caused by a virus.
Subacute thyroiditis usually begins suddenly. In this disorder, inflammation causes the thyroid gland to release excessive amounts of thyroid hormones, resulting in hyperthyroidism Hyperthyroidism Hyperthyroidism is overactivity of the thyroid gland that leads to high levels of thyroid hormones and speeding up of vital body functions. Graves disease is the most common cause of hyperthyroidism... read more
, almost always followed by transient hypothyroidism Hypothyroidism Hypothyroidism is underactivity of the thyroid gland that leads to inadequate production of thyroid hormones and a slowing of vital body functions. Facial expressions become dull, the voice... read more
and finally normal thyroid function.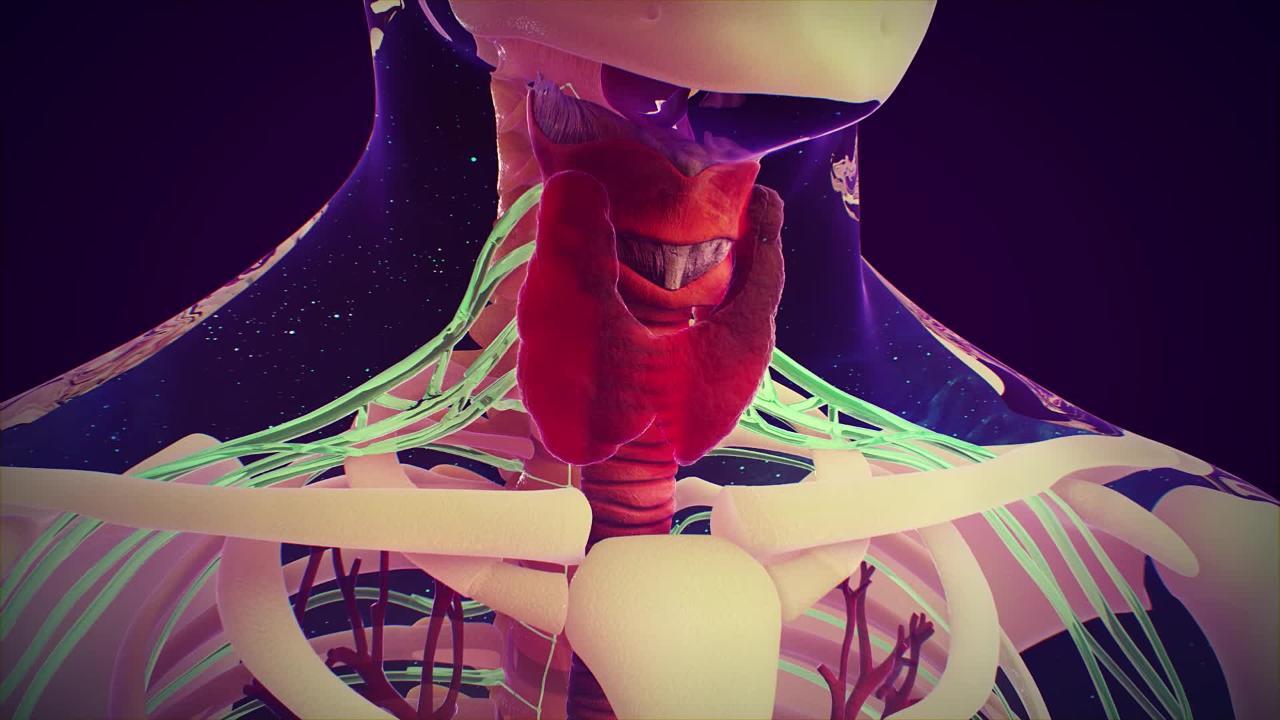 Symptoms of Subacute Thyroiditis
Subacute thyroiditis often follows a viral illness and begins with what many people call a sore throat but actually proves to be neck pain localized to the thyroid. Many people with subacute thyroiditis feel extremely tired. The thyroid gland becomes increasingly tender, and the person usually develops a low-grade fever (99 to 101° F [37 to 38º C]). The pain may shift from one side of the neck to the other, spread to the jaw and ears, and hurt more when the head is turned or when the person swallows. Subacute thyroiditis is often mistaken at first for a dental problem or a throat or ear infection.
Treatment of Subacute Thyroiditis
Sometimes medications to relieve pain and inflammation
Most people recover completely from this type of thyroiditis. Generally the thyroiditis resolves by itself within a few months, but sometimes it comes back or, more rarely, damages enough of the thyroid gland to cause permanent hypothyroidism.
Aspirin or other nonsteroidal anti-inflammatory medications (NSAIDs) can relieve the pain and inflammation. In moderate or severe cases, doctors may recommend corticosteroids, such as prednisone, which are gradually decreased over 6 to 8 weeks. When corticosteroids are discontinued abruptly or too early, symptoms often return in full force. When symptoms of hyperthyroidism are severe, a beta-blocker may be recommended.
If symptoms of hypothyroidism are severe or if hypothyroidism becomes permanent, synthetic thyroid hormone (levothyroxine) may be needed.
Drugs Mentioned In This Article
| Generic Name | Select Brand Names |
| --- | --- |
| aspirin | Anacin Adult Low Strength, Aspergum, Aspir-Low, Aspirtab , Aspir-Trin , Bayer Advanced Aspirin, Bayer Aspirin, Bayer Aspirin Extra Strength, Bayer Aspirin Plus, Bayer Aspirin Regimen, Bayer Children's Aspirin, Bayer Extra Strength, Bayer Extra Strength Plus, Bayer Genuine Aspirin, Bayer Low Dose Aspirin Regimen, Bayer Womens Aspirin , BeneHealth Aspirin, Bufferin, Bufferin Extra Strength, Bufferin Low Dose, DURLAZA, Easprin , Ecotrin, Ecotrin Low Strength, Genacote, Halfprin, MiniPrin, St. Joseph Adult Low Strength, St. Joseph Aspirin, VAZALORE, Zero Order Release Aspirin, ZORprin |
| prednisone | Deltasone, Predone, RAYOS, Sterapred, Sterapred DS |
| levothyroxine | Ermeza, Estre , Euthyrox, Levo-T, Levothroid, Levoxyl, Synthroid, Thyquidity, Thyro-Tabs, TIROSINT, TIROSINT-SOL, Unithroid |
VIEW PROFESSIONAL VERSION