Topic Resources
Bag-Valve-Mask Devices
How To Insert an Oropharyngeal Airway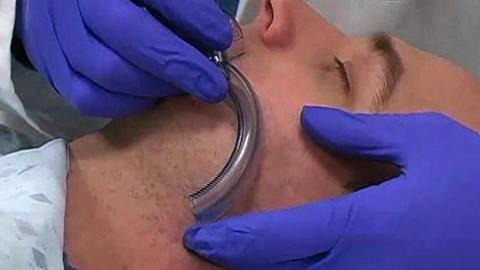 Bag-valve-mask devices do not maintain airway patency, so patients with soft-tissue relaxation require careful positioning and manual maneuvers (see figures and ), as well as additional devices to keep the airway open.
Head and neck positioning to open the airway
A: The head is flat on the stretcher; the airway is constricted. B: The ear and sternal notch are aligned, with the face parallel to the ceiling, opening the airway. Adapted from Levitan RM, Kinkle WC: The Airway Cam Pocket Guide to Intubation, ed. 2. Wayne (PA), Airway Cam Technologies, 2007.
Absolute contraindications for placement of a nasopharyngeal airway include significant mid-face injuries with suspected cribriform plate (basilar skull) fracture. Relative contraindications include abnormalities in nasal anatomy (eg, significant nasal trauma, large polyps, recent nasal surgery) that could make passing a nasopharyngeal airway difficult.
The most common way to determine the proper size of oropharyngeal airway is to use an airway that is the same length as the distance between the corner of the patient's mouth and the angle of the jaw.
How To Insert a Nasopharyngeal Airway
Resuscitator bags are also used with artificial airways, including endotracheal tubes and supraglottic and pharyngeal airways. Pediatric bags have a pressure relief valve that limits peak airway pressures (usually to 35 to 45 cm water); practitioners must monitor the valve setting to avoid inadvertent hyperventilation. The relief valve can be shut off if necessary to provide sufficient pressure.
How To Do Bag-Valve-Mask Ventilation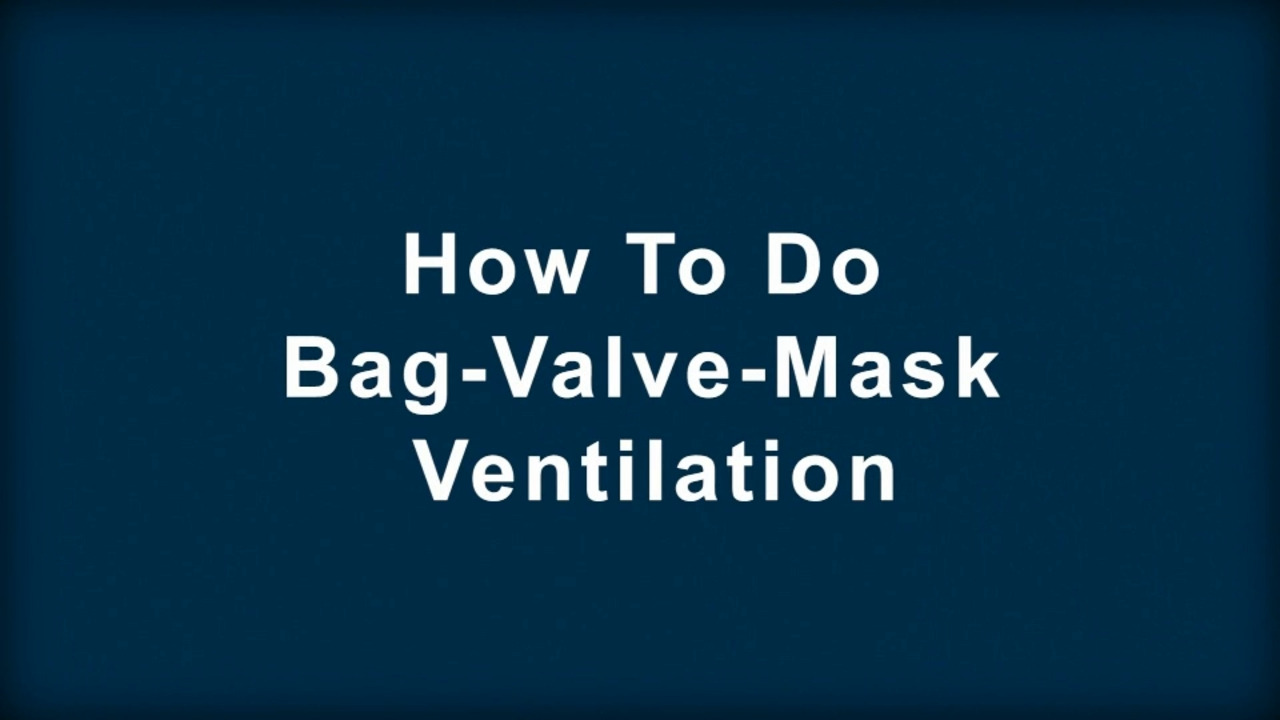 Laryngeal Mask Airways (LMA)
Supraglottic airways (SGAs) are inserted into the pharynx to allow ventilation, oxygenation, and administration of anesthetic gases without the need for endotracheal intubation. These devices are used for the following:
Primary airway management

Rescue ventilation when bag-valve-mask ventilation is difficult

Rescue ventilation when definitive airway management is expected to be difficult (eg, with anatomic abnormalities)

Ventilation when personnel are limited (eg, prehospital)

As a conduit for endotracheal intubation
LMAs are inserted into the lower oropharynx to prevent airway obstruction by soft tissues and to create an effective channel for ventilation (see figure ). A variety of available LMAs allow passage of an endotracheal tube or a gastric decompression tube. As the name implies, these devices seal the laryngeal inlet (rather than the face-mask interface) and thus avoid the difficulty of maintaining an adequate face-mask seal and the risk of displacing the jaw and tongue. Complications include vomiting and aspiration in patients who have an intact gag reflex, who are receiving excessive ventilation, or both.
How To Insert a Laryngeal Mask Airway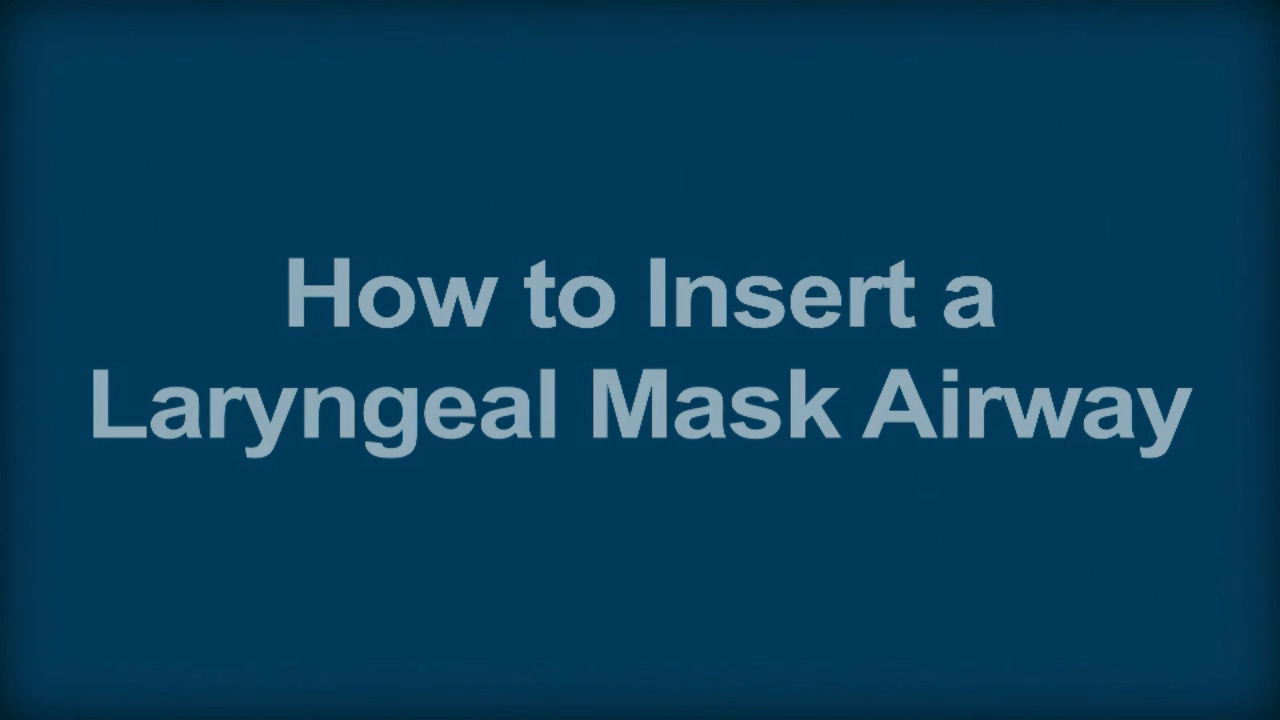 Although a laryngeal mask airway does not isolate the airway from the esophagus as well as an endotracheal tube, it has some advantages over bag-valve-mask ventilation:
It minimizes gastric inflation

It provides some protection against passive regurgitation
Most versions of LMAs have an opening through which a small tube can be inserted to decompress the stomach.
The efficacy of the airway seal with an LMA, unlike endotracheal tubes, is not directly correlated with the mask inflation pressure. With endotracheal tubes, higher balloon pressure causes a tighter seal; with an LMA, overinflation makes the mask more rigid and less able to adapt to the patient's anatomy. If the seal is inadequate, mask pressure should be lowered somewhat; if this approach does not work, a larger mask size should be tried.
A contraindication to use of an LMA is massive facial trauma.
Laryngeal mask airway (LMA)
The LMA is a tube with an inflatable cuff that is inserted into the oropharynx. A: The deflated cuff is inserted into the mouth. B: With the index finger, the cuff is guided into place above the larynx. C: Once in place, the cuff is inflated.
Some cuffs use a gel that molds to the airway rather than an inflatable cuff.
Endotracheal Tubes
An endotracheal tube is inserted directly into the trachea via the mouth or, less commonly, the nose. Endotracheal tubes have high-volume, low-pressure balloon cuffs to prevent air leakage and minimize the risk of aspiration. Cuffed tubes were traditionally used only in adults and children > 8 years; however, cuffed tubes sometimes are used in infants and younger children to limit air leakage or aspiration (particularly during transport). Sometimes cuffs are not inflated or inflated only to the extent needed to prevent obvious leakage.
Other Devices
Other supraglottic airway devices include laryngeal tube or twin-lumen airways (eg, Combitube, King laryngeal tube). These devices use 2 balloons to create a seal above and below the larynx and have ventilation ports overlying the laryngeal inlet (which is between the balloons). As with laryngeal mask airways, prolonged placement and balloon overinflation can cause tongue edema. These can be used as alternative airway after failed intubation attempts with an endotracheal tube.
How To Insert an Esophageal-Tracheal Combitube