Topic Resources
Posttraumatic stress disorder (PTSD) is a disabling disorder that develops after exposure to a traumatic event. It is characterized by intrusive thoughts, nightmares, and flashbacks; avoidance of reminders of the trauma; negative cognitions and mood; hypervigilance and sleep disturbance. Diagnosis is based on clinical criteria. Treatment includes psychotherapy and sometimes adjunctive pharmacologic therapy.
Combat, sexual assault, and natural or man-made disasters are common causes of PTSD. PTSD can lead to serious social, occupational, and interpersonal dysfunction.
General reference
1. Goldstein RB, Smith SM, Chou SP, et al: The epidemiology of DSM-5 posttraumatic stress disorder in the United States: Results from the National Epidemiologic Survey on Alcohol and Related Conditions-III. Soc Psychiatry Psychiatr Epidemiol 51(8):1137-1148, 2016. doi: 10.1007/s00127-016-1208-5
Symptoms and Signs of PTSD
Symptoms of PTSD can be subdivided into 4 categories:
Negative alterations in cognition and mood

Alterations in arousal and reactivity
Overview of Posttraumatic Stress Disorder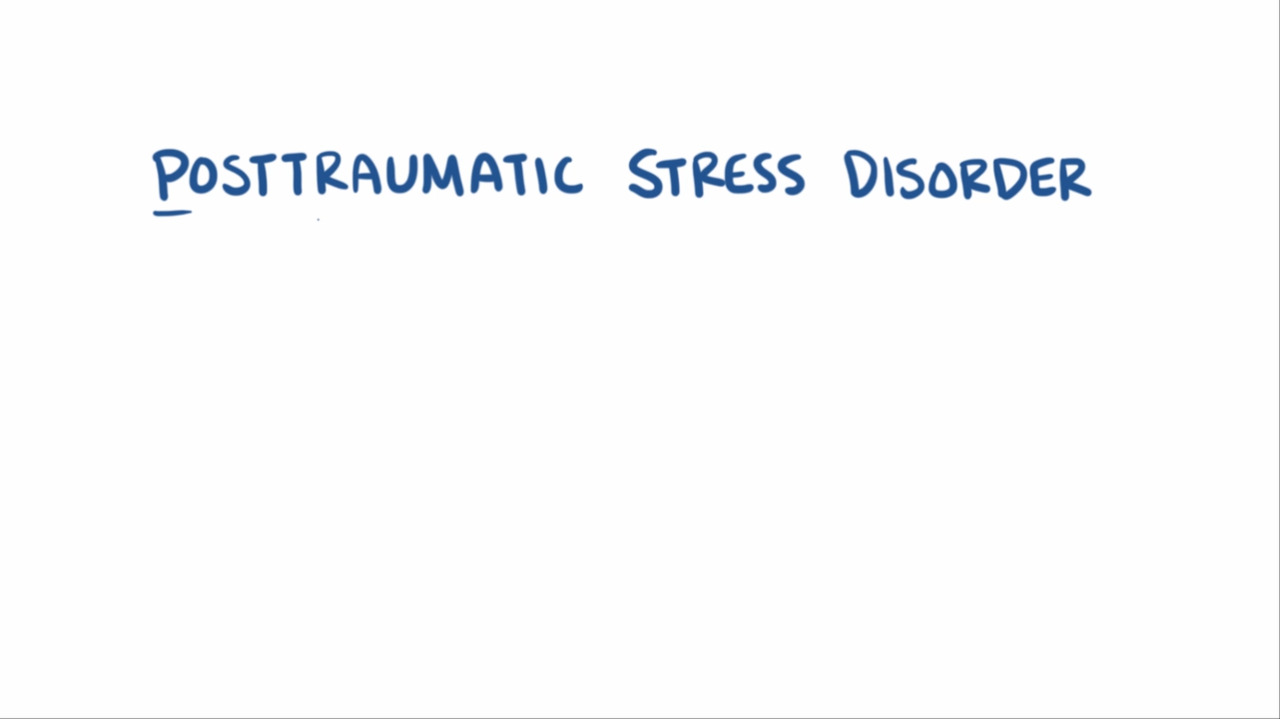 Intrusions: Intrusions are unwanted memories or nightmares that replay the triggering event. Intrusions can take the form of "flashbacks," which can be triggered by sights, sounds, smells, or other stimuli. For example, a loud noise might trigger the memory of an assault, leading the person to throw himself to the ground in a panic.
Avoidance: People with PTSD might avoid reminders of the trauma, such as particular parts of town or previously favorite activities.
Negative alterations in cognition and mood: Cognitive and mood changes include disinterest and detachment, distorted cognitions, anhedonia, inappropriate self-blame, and depression.
Alterations in arousal and reactivity: People with PTSD can demonstrate excessive arousal, irritability, and reactivity, or they may seem numb and distant.
Diagnosis of PTSD
Diagnostic and Statistical Manual of Mental Disorders, 5th Edition, Text Revision (DSM-5-TR) criteria
Intrusion symptoms (≥ 1 of the following):
Having recurrent, involuntary, intrusive, disturbing memories

Having recurrent disturbing dreams (eg, nightmares) of the event

Acting or feeling as if the event were happening again, ranging from having flashbacks to completely losing awareness of the present surroundings

Feeling intense psychological or physiologic distress when reminded of the event (eg, by its anniversary, by sounds similar to those heard during the event)
Avoidance symptoms (≥ 1 of the following):
Avoiding thoughts, feelings, or memories associated with the event

Avoiding activities, places, conversations, or people that trigger memories of the event
Negative effects on cognition and mood (≥ 2 of the following):
Memory loss for significant parts of the event (dissociative amnesia)

Persistent and exaggerated negative beliefs or expectations about oneself, others, or the world

Persistent distorted thoughts about the cause or consequences of the trauma that lead to blaming self or others

Persistent negative emotional state (eg, fear, horror, anger, guilt, shame)

Markedly diminished interest or participation in significant activities

A feeling of detachment or estrangement from others

Persistent inability to experience positive emotions (eg, happiness, satisfaction, loving feelings)
Altered arousal and reactivity (≥ 2 of the following):
Irritability or angry outbursts

Reckless or self-destructive behavior

Problems with concentration

Increased startle response
In addition, manifestations must cause significant distress or significantly impair social or occupational functioning and not be attributable to the physiologic effects of a substance use or another medical disorder.
The dissociative subtype of PTSD is diagnosed when, in addition to all of the symptoms mentioned above, there is evidence of depersonalization (feeling detached from one's self or body) and/or derealization (experiencing the world as unreal or dreamlike).
Diagnosis reference
1. Diagnostic and Statistical Manual of Mental Disorders, 5th edition, Text Revision (DSM-5-TR). American Psychiatric Association Publishing, Washington, DC, pp 301-313.
Drugs Mentioned In This Article
| Drug Name | Select Trade |
| --- | --- |
| prazosin | Minipress |
| valproic acid | Depacon, Depakene, Depakote, Depakote ER, Stavzor |
| aripiprazole | Abilify, Abilify Asimtufii, Abilify Discmelt, Abilify Maintena, Abilify Mycite, Aristada |
| ketamine | Ketalar |