Topic Resources
Systemic treatments are those that have effects throughout the body rather than being applied directly to the cancer. Chemotherapy is a form of systemic treatment that uses drugs to kill cancer cells or to stop them from growing.
Systemic cancer therapy includes
Chemotherapy (anti-cancer drugs)

Various other drugs for cancer
The number of approved cancer therapies is increasing rapidly. The National Cancer Institute maintains an up-to-date list of drugs used to treat cancer. The list provides a brief summary of each drug's uses and links to additional information.
Hormonal Therapy for Cancer
For example, prostate cancer Prostate Cancer Prostate cancer begins in a small area of the prostate gland, an organ found only in males. The risk of prostate cancer increases as men age. Symptoms, such as difficulty urinating, a need to... read more
grows faster when exposed to the male sex hormone testosterone and other androgenic steroids. Thus, anti-androgen therapy is commonly used to treat prostate cancer. Some anti-androgen drugs, such as leuprolide, goserelin, and others, prevent the pituitary gland Overview of the Pituitary Gland The pituitary is a pea-sized gland that is housed within a bony structure (sella turcica) at the base of the brain. The sella turcica protects the pituitary but allows very little room for expansion... read more from stimulating the testes to make testosterone. Other hormonal therapy drugs, such as flutamide, bicalutamide, and nilutamide, are used to block the effects of testosterone. These hormonal therapy drugs do not cure prostate cancer, but they can slow the growth and spread of prostate cancer. However, these drugs also may cause symptoms of testosterone deficiency, such as hot flashes, osteoporosis, loss of energy, reduction in muscle mass, fluid weight gain, reduction of libido, decrease in body hair, erectile dysfunction, and breast enlargement.
Some breast cancers Breast Cancer Breast cancer occurs when cells in the breast become abnormal and divide uncontrollably. Breast cancer usually starts in the glands that produce milk (lobules) or the tubes (ducts) that carry... read more
grow faster when exposed to the female sex hormones estrogen and/or progesterone. Drugs such as tamoxifen and raloxifene bind to estrogen receptors and inhibit the growth of breast cancers with estrogen receptors. These drugs also reduce the risk of developing breast cancer. Aromatase inhibitors, such as anastrozole, reduce the production of estrogen and have a similar benefit.
Hormonal therapy may be used alone or combined with other types of cancer therapy.
Chemotherapy
Chemotherapy involves the use of drugs to destroy cancer cells. Although an ideal drug would destroy cancer cells without harming normal cells, most drugs are not that selective. Instead, drugs are designed to inflict greater damage on cancer cells than on normal cells, typically by using drugs that affect a cell's ability to grow. Uncontrolled and rapid growth is characteristic of cancer cells. However, because normal cells also need to grow, and some grow quite rapidly (such as those in the bone marrow and those lining the mouth and intestine), all chemotherapy drugs affect normal cells and cause side effects.
Chemotherapy is used to cure cancer. It may also decrease the chance that cancer will return, slow the growth of a cancer, or shrink tumors that are causing pain or other problems.
High-dose chemotherapy
In an attempt to increase the tumor-destroying effects of cancer drugs, the dose may be increased. Sometimes the rest period between cycles of chemotherapy may be decreased. High-dose chemotherapy, with shortened rest periods, is routinely used in many cancers such as leukemias, lymphomas, lung cancers, pancreas cancers, digestive system cancers, breast cancers, and others.
High-dose chemotherapy is sometimes used to treat people whose cancer has recurred after standard-dose chemotherapy, particularly for people with myeloma, lymphoma, and leukemia. However, high-dose chemotherapy can cause life-threatening injury to the bone marrow. Therefore, high-dose chemotherapy is commonly combined with strategies to protect the bone marrow (rescue). In bone marrow rescue, bone marrow cells are harvested before the chemotherapy and returned to the person after chemotherapy. In some cases these cells can be isolated from the bloodstream rather than from the bone marrow and can be infused back into the person after chemotherapy to restore bone marrow function.
Central Venous Catheter/Peripherally Inserted Central Catheter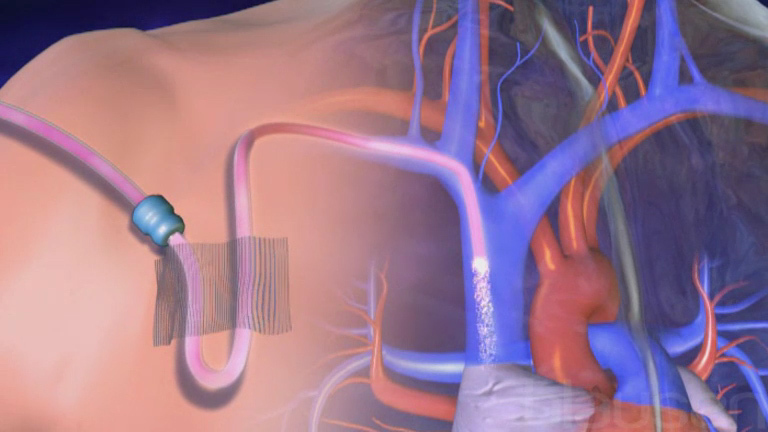 Other Drugs
Anti-angiogenesis drugs prevent a tumor from forming new blood vessels. If blood vessel growth is prevented, the cancer will lack the blood supply needed to grow. Some drugs can block blood vessel formation to cancer cells. Bevacizumab is a monoclonal antibody that blocks a growth factor needed by blood vessels. It is effective against kidney cancers and colon cancer. Other drugs, such as sorafenib and sunitinib, block the receptor for the blood vessel growth factor. These may be effective in kidney and liver cancers.
Still other drugs target the pathways cancer cells use to signal additional cells to form or grow.
Drugs Mentioned In This Article
| Generic Name | Select Brand Names |
| --- | --- |
| leuprolide | CAMCEVI, Eligard, Fensolv, Lupron, Lupron Depot, Lupron Depot-Ped, Viadur |
| goserelin | Zoladex, Zoladex 3-Month |
| flutamide | Eulexin |
| bicalutamide | Casodex |
| nilutamide | Nilandron |
| tamoxifen | Nolvadex, Soltamox |
| raloxifene | Evista |
| anastrozole | Arimidex |
| imatinib | Gleevec |
| erlotinib | Tarceva |
| gefitinib | Iressa |
| osimertinib | Tagrisso |
| bevacizumab | Alymsys, Avastin, MVASI, Zirabev |
| sorafenib | Nexavar |
| sunitinib | Sutent |
VIEW PROFESSIONAL VERSION