Topic Resources
Symptoms and Signs of Atrial Flutter
Symptoms of atrial flutter depend primarily on ventricular rate and the nature of any underlying heart disorder. If ventricular rate is &lt 120 beats/minute and regular, there are likely to be few or no symptoms. Faster rates and variable AV conduction usually cause palpitations, and decreased cardiac output may cause symptoms of hemodynamic compromise (eg, chest discomfort, dyspnea, weakness, syncope). Close inspection of the jugular venous pulse reveals flutter a waves.
Diagnosis of Atrial Flutter
The diagnosis of atrial flutter is by electrocardiography (ECG). In typical flutter, ECG shows continuous and regular atrial activation with a sawtooth pattern, most obvious in leads II, III, and aVF (see figure Atrial flutter Atrial flutter
).
Atrial flutter
(Note: Conducted with right bundle branch block.)
Carotid sinus massage can increase AV block and better expose the typical flutter waves. A similar response may follow pharmacologic AV nodal blockade (eg, with adenosine), but such therapy does not terminate atrial flutter.
Treatment of Atrial Flutter
Rate control with medication

Rhythm control with cardioversion, medication, or ablation

Prevention of thromboembolism
Treatment of atrial flutter focuses on ventricular rate control, rhythm control, and prevention of thromboembolism.
Pharmacologic rate control is more difficult to achieve in atrial flutter than in atrial fibrillation. Thus, for most patients, electrical conversion (using synchronized cardioversion Cardiac Resynchronization Therapy (CRT) The need for treatment of arrhythmias depends on the symptoms and the seriousness of the arrhythmia. Treatment is directed at causes. If necessary, direct antiarrhythmic therapy, including antiarrhythmic... read more or overdrive pacing) is the treatment of choice for an initial episode and is mandatory with 1:1 AV conduction or hemodynamic compromise. Typically, low-energy (50 joules) conversion is effective. Anticoagulation Prevention of thromboembolism Atrial fibrillation is a rapid, irregularly irregular atrial rhythm. Symptoms include palpitations and sometimes weakness, effort intolerance, dyspnea, and presyncope. Atrial thrombi may form... read more , as in atrial fibrillation, is necessary before cardioversion.
Overview of Atrial Flutter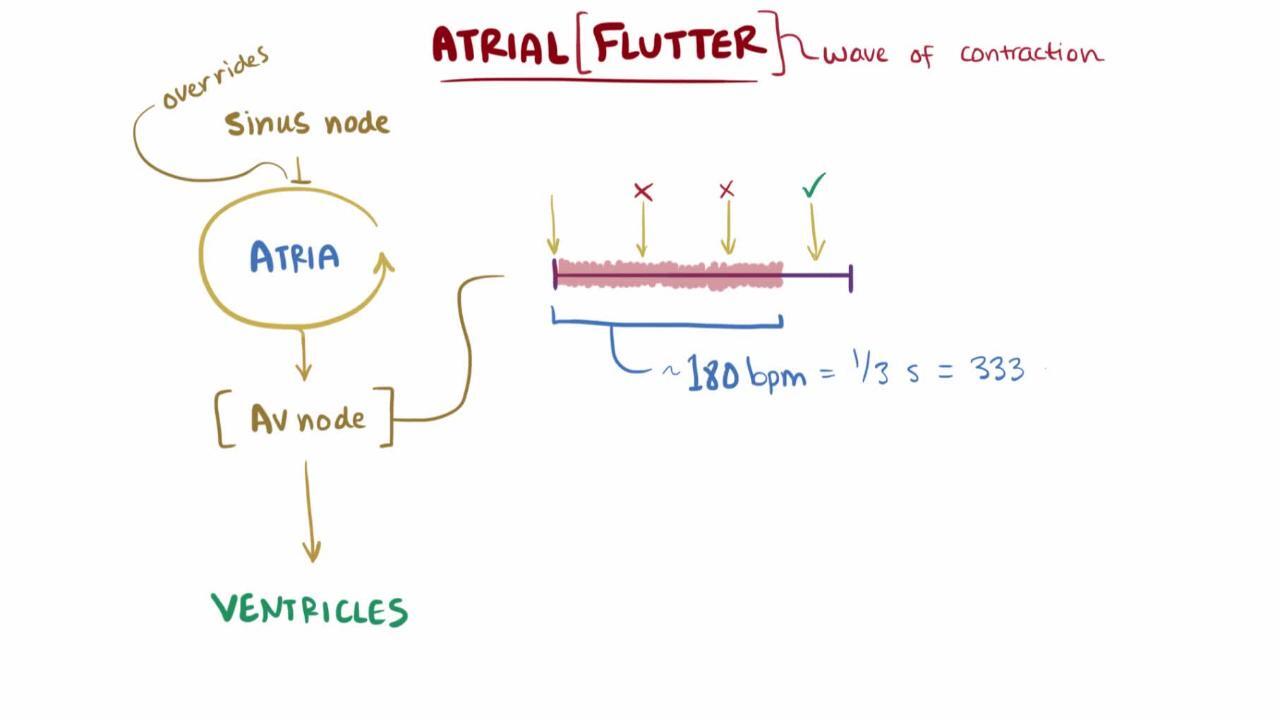 Key Points
Atrial flutter is a rapid, regular atrial rhythm that rarely may cause an irregular or nontachycardic QRS response, depending on the degree and type of block present.

After initial rate control with medications such as beta-blockers and nondihydropyridine calcium channel blockers (eg, verapamil, diltiazem), most patients should have synchronized cardioversion.

Anticoagulation is necessary before cardioversion.

Long-term oral anticoagulation to prevent stroke is required for patients with chronic or recurrent atrial flutter.
Drugs Mentioned In This Article
| Drug Name | Select Trade |
| --- | --- |
| verapamil | Calan, Calan SR, Covera-HS, Isoptin, Isoptin SR, Verelan, Verelan PM |
| diltiazem | Cardizem, Cardizem CD, Cardizem LA, Cardizem SR, Cartia XT , Dilacor XR, Dilt-CD , Diltia XT, Diltzac, Matzim LA, Taztia XT, TIADYLT ER, Tiamate, Tiazac |
| warfarin | Coumadin, Jantoven |