Topic Resources
What are blood vessels?
Blood vessels are hollow tubes like pipes that carry blood through your body. The blood delivers oxygen and nutrients to all parts of your body and removes waste products, such as carbon dioxide.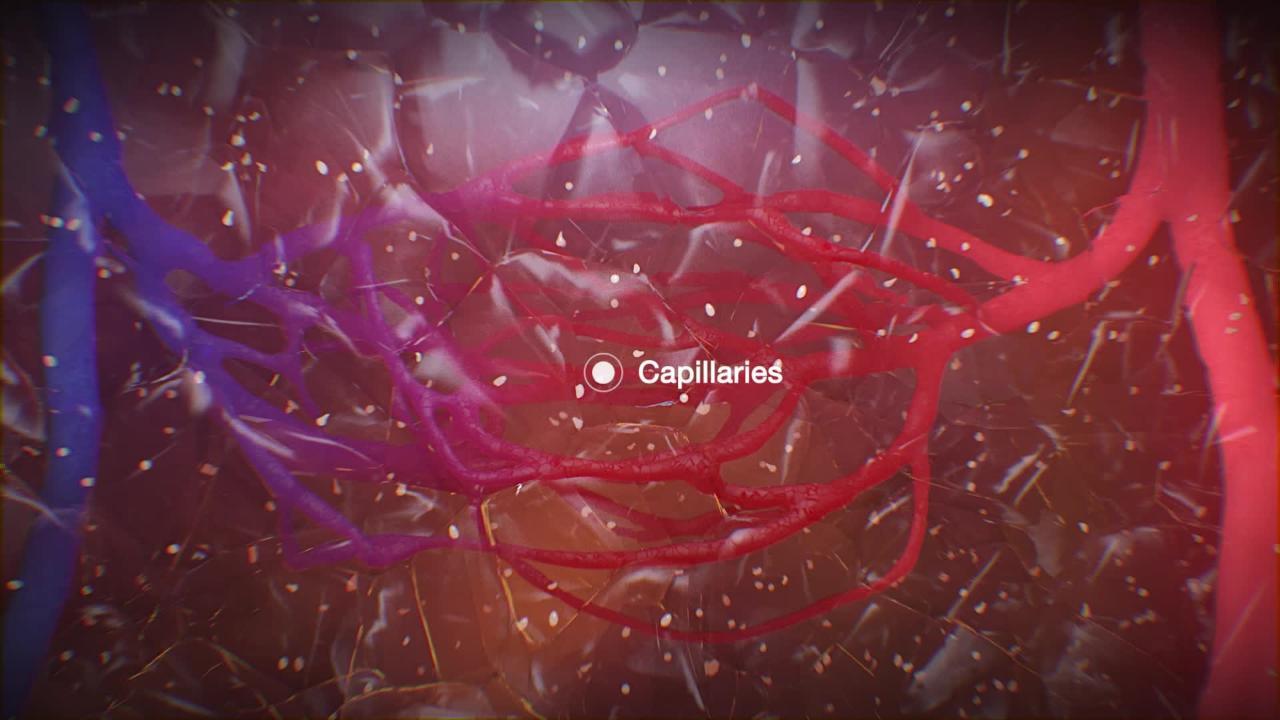 There are 2 main kinds of blood vessels—arteries and veins

Arteries carry fresh blood from your heart to your organs

Veins carry waste-filled blood back to your heart

Arteries and veins are connected by microscopic vessels called capillaries
Veins have thin walls with only a little muscle. Blood pressure is lower in the veins. Veins can get wider to handle increased blood. Some veins have valves to keep the blood from flowing backward.
Blood Vessels: Circulating the Blood
Blood travels from the heart in arteries, which branch into smaller and smaller vessels, eventually becoming arterioles. Arterioles connect with even smaller blood vessels called capillaries. Through the thin walls of the capillaries, oxygen and nutrients pass from blood into tissues, and waste products pass from tissues into blood. From the capillaries, blood passes into venules, then into veins to return to the heart.
Arteries and arterioles have relatively thick muscular walls because blood pressure in them is high and because they must adjust their diameter to maintain blood pressure and to control blood flow. Veins and venules have much thinner, less muscular walls than arteries and arterioles, largely because the pressure in veins and venules is much lower. Veins may dilate to accommodate increased blood volume.
What can go wrong with my blood vessels?
If a blood vessel is cut or tears, you bleed, either on the outside or internally within your organs. Other common blood vessel problems include:
Atherosclerosis Atherosclerosis In people with atherosclerosis, patchy deposits of fatty material (atheromas or atherosclerotic plaques) develop in the walls of medium-sized and large arteries, leading to reduced or blocked... read more (hardening of the arteries), in which fat deposits block your arteries

Blood clots can form in your veins (called deep vein thrombosis) or in your arteries, causing sudden blockage Sudden blockage of an artery Occlusive peripheral arterial disease is blockage or narrowing of an artery in the legs (or rarely the arms), usually due to atherosclerosis and resulting in decreased blood flow. Symptoms depend... read more

Varicose veins Varicose Veins Varicose veins are veins just under your skin that become very large, twisted, and bulging. They're usually on your legs. Varicose veins may hurt, itch, or ache Varicose veins are more common... read more , in which veins near the surface of your skin get enlarged and twisted
VIEW PROFESSIONAL VERSION