Topic Resources
A fracture is a break in a bone. Most fractures result from a single, significant force applied to normal bone.
In addition to fractures, musculoskeletal injuries include
Musculoskeletal injuries are common and vary greatly in mechanism, severity, and treatment. The extremities, spine, and pelvis can all be affected.
Some fractures are discussed elsewhere in THE MANUAL:
Pathophysiology of Fractures
Open: The overlying skin is disrupted, and the broken bone is in communication with the environment via a skin wound.

Closed: The overlying skin is intact.
Pathologic fractures occur when mild or minimal force fractures an area of bone weakened by a disorder (eg, osteoporosis, cancer, infection, bone cyst). When the disorder is osteoporosis Osteoporosis Osteoporosis is a progressive metabolic bone disease that decreases bone mineral density (bone mass per unit volume), with deterioration of bone structure. Skeletal weakness leads to fractures... read more
, these fractures are often called insufficiency or fragility fractures.
Healing
Bone heals at various rates, depending on the patient's age and coexisting disorders. For example, children heal much faster than adults; disorders that impair peripheral circulation (eg, diabetes, peripheral vascular disease) slow healing.
Fractures heal in 3 overlapping stages:
The inflammatory stage occurs first. A hematoma forms at the fracture site, and a small amount of bone in the distal fracture fragments is resorbed. If a fracture line is not evident initially (eg, in some nondisplaced fractures), one typically becomes evident about 1 week after the injury as this small amount of bone is resorbed.
During the reparative stage, a callus is formed. New blood vessels develop, enabling cartilage to form across the fracture line. Immobilization (eg, casting) is needed during the first 2 stages to allow new blood vessels to grow. The reparative phase ends with clinical union of the fracture (ie, when there is no pain at fracture site, the injured extremity can be used without pain, and clinical examination detects no bone movement).
In the remodeling stage, the callus, which was originally cartilaginous, becomes ossified, and the bone is broken down and rebuilt (remodeled). During this stage, patients should be instructed to gradually resume moving the injured part normally, including putting load-bearing stress on it.
Complications
Serious complications of fractures are unusual but may threaten life or limb viability or cause permanent limb dysfunction. Risk of complications is high with open fractures (which predispose to infection) and with fractures that disrupt blood vessels, tissue perfusion, and/or nerves. Closed fractures that do not involve blood vessels or nerves, particularly those that are quickly reduced, are least likely to result in serious complications.
Acute complications (associated injuries) include the following:
Bleeding: Bleeding accompanies all fractures (and soft-tissue injuries). Rarely, internal or external bleeding is severe enough to cause hemorrhagic shock (eg, in pelvic, femoral, and some open fractures).

Vascular injuries: Some open fractures disrupt blood vessels. Some closed fractures, particularly posteriorly displaced supracondylar humeral fractures, disrupt the vascular supply sufficiently to cause distal limb ischemia; this vascular disruption may be clinically occult for hours after the injury.

Nerve injuries: Nerves may be injured when stretched by displaced pieces of a fractured bone, when bruised by a blunt blow, when crushed in a severe crush injury, or when torn by sharp bone fragments. When nerves are bruised (called neurapraxia), nerve conduction is blocked, but the nerve is not torn. Neurapraxia causes temporary motor and/or sensory deficits; neurologic function returns completely in about 6 to 8 weeks. When nerves are crushed (called axonotmesis), the axon is injured, but the myelin sheath is not. This injury is more severe than neurapraxia. Depending on the extent of the damage, the nerve can regenerate over weeks to years. Usually, nerves are torn (called neurotmesis) in open fractures. Torn nerves do not heal spontaneously and may have to be repaired surgically.

Pulmonary embolism Pulmonary Embolism (PE) Pulmonary embolism (PE) is the occlusion of pulmonary arteries by thrombi that originate elsewhere, typically in the large veins of the legs or pelvis. Risk factors for pulmonary embolism are... read more : In patients with a hip or pelvic fracture, risk of pulmonary embolism is high. Pulmonary embolism is the most common fatal complication of serious fractures of the hip or pelvis.

Compartment syndrome Compartment Syndrome Compartment syndrome is increased tissue pressure within a closed fascial space, resulting in tissue ischemia. The earliest symptom is pain out of proportion to the severity of injury. Diagnosis... read more : Tissue pressure increases in a closed fascial space, disrupting the vascular supply and reducing tissue perfusion. Crush injuries or markedly comminuted fractures are a common cause, increasing tissue pressure as edema develops. Risk is high with forearm fractures that involve both the radius and ulna, tibial plateau fractures (proximal tibial fractures that extend into the joint space), or tibial shaft fractures (1 Complications references A fracture is a break in a bone. Most fractures result from a single, significant force applied to normal bone. In addition to fractures, musculoskeletal injuries include Joint dislocations... read more ). Untreated compartment syndrome can lead to rhabdomyolysis, hyperkalemia, and infection. Over the long term, it can cause contractures, sensory deficits, and paralysis. Compartment syndrome threatens limb viability (possibly requiring amputation) and survival.

Infection: Any fracture can become infected, but risk is highest with those that are open or surgically treated. Acute infection can lead to osteomyelitis Osteomyelitis Osteomyelitis is inflammation and destruction of bone caused by bacteria, mycobacteria, or fungi. Common symptoms are localized bone pain and tenderness with constitutional symptoms (in acute... read more , which can be difficult to cure.
Long-term complications of fractures include the following:
Instability: Various fractures can lead to joint instability. Instability can be disabling and increases the risk of osteoarthritis Osteoarthritis (OA) Osteoarthritis is a chronic arthropathy characterized by disruption and potential loss of joint cartilage along with other joint changes, including bone hypertrophy (osteophyte formation). Symptoms... read more .

Stiffness and impaired range of motion: Fractures that extend into joints usually disrupt articular cartilage; misaligned articular cartilage tends to scar, causing osteoarthritis and impairing joint motion. Stiffness is more likely if a joint needs prolonged immobilization. The knee, elbow, and shoulder are particularly prone to posttraumatic stiffness, especially in older people.

Nonunion or delayed union: Occasionally, fractures do not heal (called nonunion), or union is delayed. Major contributing factors include incomplete immobilization, partial disruption of the vascular supply, and patient factors that impair healing (eg, use of corticosteroids or thyroid hormone).

Malunion: Malunion is healing with residual deformity. It is more likely if a fracture is not adequately reduced and stabilized.

Osteonecrosis: Part of a fracture fragment can become necrotic, primarily when the vascular supply is damaged. Closed fractures prone to osteonecrosis include scaphoid fractures, displaced femoral neck fractures, and displaced talar neck fractures.

Osteoarthritis: Fractures that disrupt the weight-bearing surfaces of joints or that result in joint malalignment and instability predispose to joint cartilage degeneration and osteoarthritis.

Limb length discrepancy: If a fracture in children involves a growth plate, growth can be affected, resulting in one limb that is shorter than the other. In adults, surgical repair of a fracture, especially femoral fractures, can result in leg length discrepancy (2 Complications references A fracture is a break in a bone. Most fractures result from a single, significant force applied to normal bone. In addition to fractures, musculoskeletal injuries include Joint dislocations... read more ), which can lead to difficulty walking and the need for a lift in the shoe for the shorter leg.
Evaluation of Fractures
Evaluation for serious injuries

History and physical examination

X-rays to identify fractures
In the emergency department, if the mechanism of injury suggests potentially severe or multiple injuries (eg, a high-speed motor vehicle crash or fall from a height), patients are first evaluated from head to toe for serious injuries to all organ systems and, if needed, are resuscitated (see Approach to the Trauma Patient Approach to the Trauma Patient Injury is the number one cause of death for people aged 1 to 44. In the US, there were 278,345 trauma deaths in 2020, about 70% of which were accidental. Of intentional injury deaths, more than... read more ). Patients, especially those with pelvic or femoral fractures, are evaluated for hemorrhagic shock due to occult blood loss. If a limb is injured, it is immediately evaluated for open wounds and symptoms or signs of neurovascular injury (numbness, paresis, poor perfusion) and compartment syndrome (eg, pain out of proportion to injuries, pallor, paresthesias, coolness, pulselessness).
Clinicians may suspect fractures based on symptoms and results of the physical examination, but imaging (usually x-rays) is required to confirm the diagnosis.
Patients should be checked for ligament, tendon, and muscle injuries as well as fractures. The presence of a fracture can limit this part of this evaluation (eg, stress testing cannot be done because pain is initially prohibitive).
The joint above and below the injury should also be examined, because concomitant injuries and referred pain are common.
Treatment of Fractures
Treatment of associated injuries

Reduction as indicated, splinting, and analgesia

RICE (rest, ice, compression, and elevation) or PRICE (including protection with a splint or cast) as indicated
Initial treatment
Severed nerves are surgically repaired; for neuropraxia and axonotmesis, initial treatment is usually observation, supportive measures, and sometimes physical therapy.
Suspected open fractures require sterile wound dressings, tetanus prophylaxis, broad-spectrum antibiotics (eg, a 2nd-generation cephalosporin plus an aminoglycoside), and surgery to irrigate and debride them (and thus prevent infection). To minimize the risk of infection in open fractures, IV antibiotics should be given early, for example, within 1 hour of emergency department presentation (1 Treatment references A fracture is a break in a bone. Most fractures result from a single, significant force applied to normal bone. In addition to fractures, musculoskeletal injuries include Joint dislocations... read more
).
Most moderate and severe fractures, particularly grossly unstable ones, are immobilized immediately by splinting (immobilization with a nonrigid or noncircumferential device) to decrease pain and to prevent further injury to soft tissues by unstable fractures. In patients with long-bone fractures, splinting may prevent fat embolism.
Pain is treated as soon as possible, typically with opioids Opioid Analgesics Nonopioid and opioid analgesics are the main drugs used to treat pain. Antidepressants, antiseizure drugs, and other central nervous system (CNS)–active drugs may also be used for chronic or... read more or regional nerve blocks. If a patient has an isolated extremity fracture and compartment syndrome is not suspected, regional anesthesia may be used; this approach can help minimize the use of opioids and provides greater pain relief than opioids alone (2 Treatment references A fracture is a break in a bone. Most fractures result from a single, significant force applied to normal bone. In addition to fractures, musculoskeletal injuries include Joint dislocations... read more
).
After initial treatment, fractures are reduced, immobilized, and treated symptomatically as indicated.
Reduction
Rotational malalignment or significant angulation or displacement of fractures is typically treated with reduction (realignment of bones or bone fragments by manipulation), which usually requires analgesia and/or sedation. Exceptions include some fractures in children in whom remodeling over time can correct significant deformities.
Closed reduction (by manipulation, without skin incision) is done when possible. If closed reduction is not possible, open reduction (with skin incision) is done; anesthesia is required.
Closed reduction of fractures is usually maintained by casting, but some fractures require only a splint or sling.
Open reduction of fractures is usually maintained by various surgical hardware, external and/or internal. In open reduction with internal fixation (ORIF), fracture fragments are aligned and held in place using a combination of pins, screws, and plates. ORIF is usually indicated when
Intra-articular fractures are displaced (to precisely align the joint surface).

ORIF has better results than nonsurgical treatment for a particular type of fracture.

Closed reduction was ineffective.

Pathologic fractures occur in a bone weakened by cancer; such bone does not heal normally, and ORIF reduces pain more quickly than other treatments and makes early ambulation possible.

Prolonged immobility (required for fracture healing) is undesirable (eg, for hip or femoral shaft fractures); ORIF provides early structural stability, minimizes pain, and facilitates mobilization.
PRICE
PRICE (protection, rest, ice, compression, elevation) may be beneficial.
Protection helps prevent further injury. It may involve limiting the use of an injured part, applying a splint or cast, or using crutches.
Rest may prevent further injury and speed healing.
Ice and compression may minimize swelling and pain. Ice is enclosed in a plastic bag or towel and applied intermittently during the first 24 to 48 hours (for 15 to 20 minutes, as often as possible). Injuries can be compressed by a splint, an elastic bandage, or, for certain injuries likely to cause severe swelling, a Jones compression dressing. The Jones dressing is 4 layers; layers 1 (the innermost) and 3 are cotton batting, and layers 2 and 4 are elastic bandages.
Elevating the injured limb above the heart for the first 2 days in a position that provides an uninterrupted downward path; such a position allows gravity to help drain edema fluid and minimize swelling.
After 48 hours, periodic application of warmth (eg, a heating pad) for 15 to 20 minutes may relieve pain and speed healing.
Immobilization
Immobilization decreases pain and facilitates healing by preventing further injury and keeping the fracture ends in alignment. Joints proximal and distal to the injury should be immobilized.
Most fractures are immobilized for weeks in a cast (a rigid, circumferential device). A few rapidly healing, stable fractures (eg, buckle wrist fractures in children) are not casted; early mobilization has the best results.
Patients with casts should be given written instructions, including the following:
Never put an object inside the cast.

Inspect the cast's edges and skin around the cast every day and report any red or sore areas.

Pad any rough edges with soft adhesive tape, cloth, or other soft material to prevent the cast's edges from injuring the skin.

When resting, position the cast carefully, possibly using a small pillow or pad, to prevent the edge from pinching or digging into the skin.

Elevate the cast whenever possible to control swelling.

Seek medical care immediately if pain persists or the cast feels excessively tight.

Seek medical care immediately if an odor emanates from within the cast or if a fever, which may indicate infection, develops.

Seek care immediately for progressively worsening pain or any new numbness or weakness, which may indicate compartment syndrome.
Good hygiene is important.
A splint (see figure Joint immobilization as acute treatment: Some commonly used techniques Joint immobilization as acute treatment: Some commonly used techniques
) can be used to immobilize some stable injuries, including some suspected but unproven fractures and rapidly healing fractures that require immobilization for several days or less. A splint is noncircumferential; thus, it enables patients to apply ice and to move more than a cast does. Also, it allows for some swelling, so it does not contribute to compartment syndrome. Some injuries that ultimately require casting are immobilized initially with a splint until most of the swelling resolves.
How To Apply Immobilizing Devices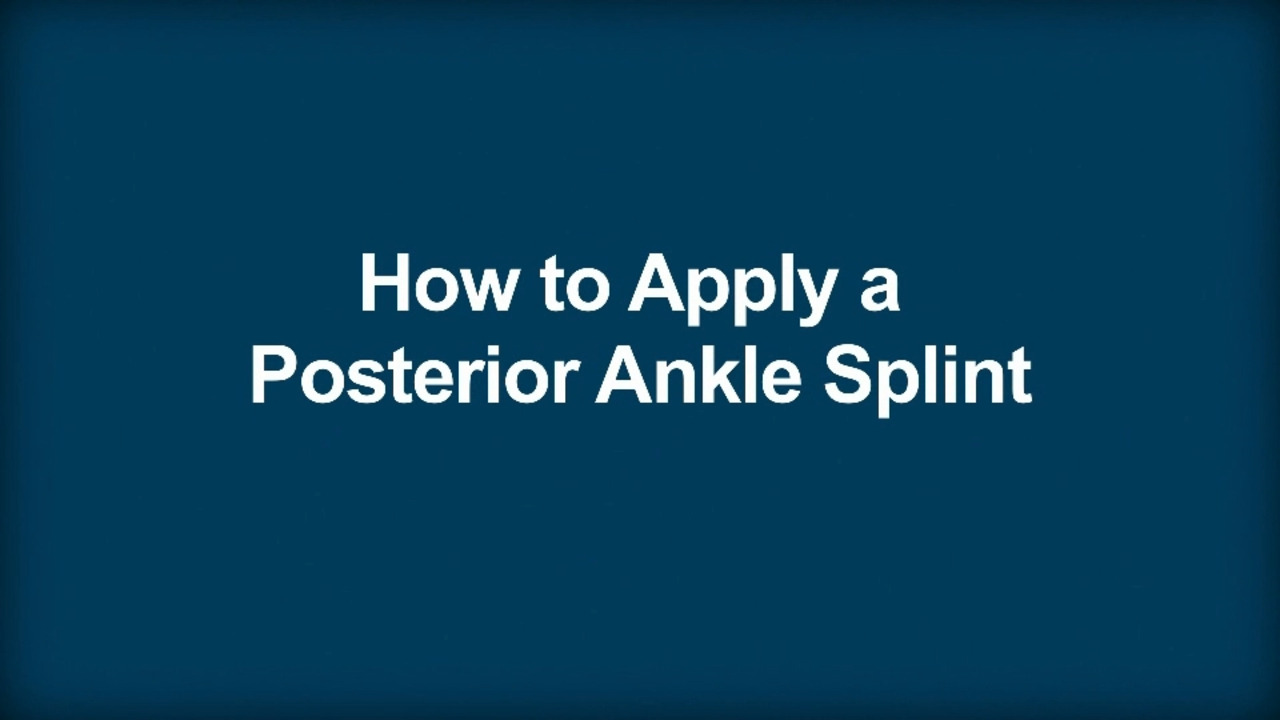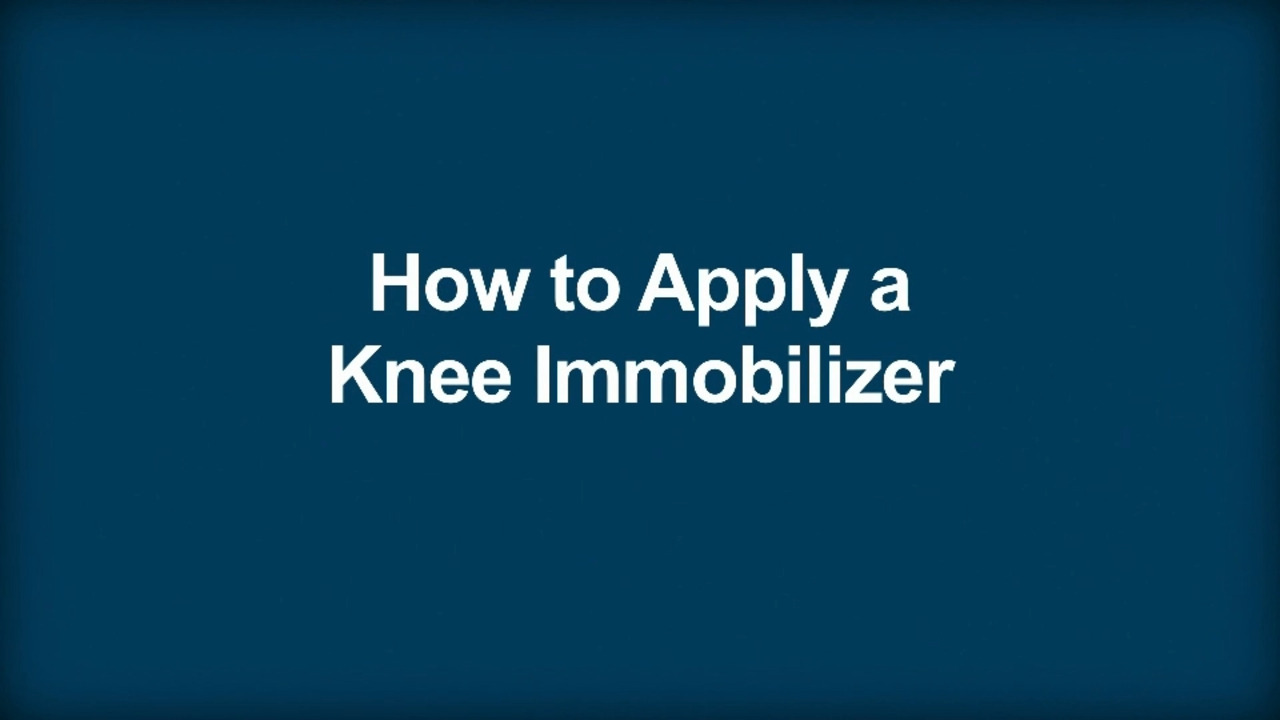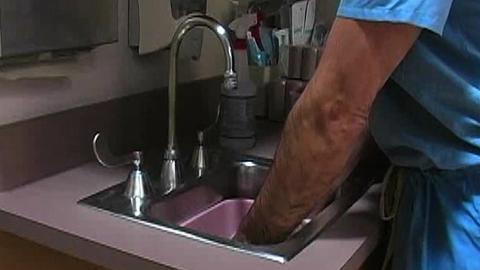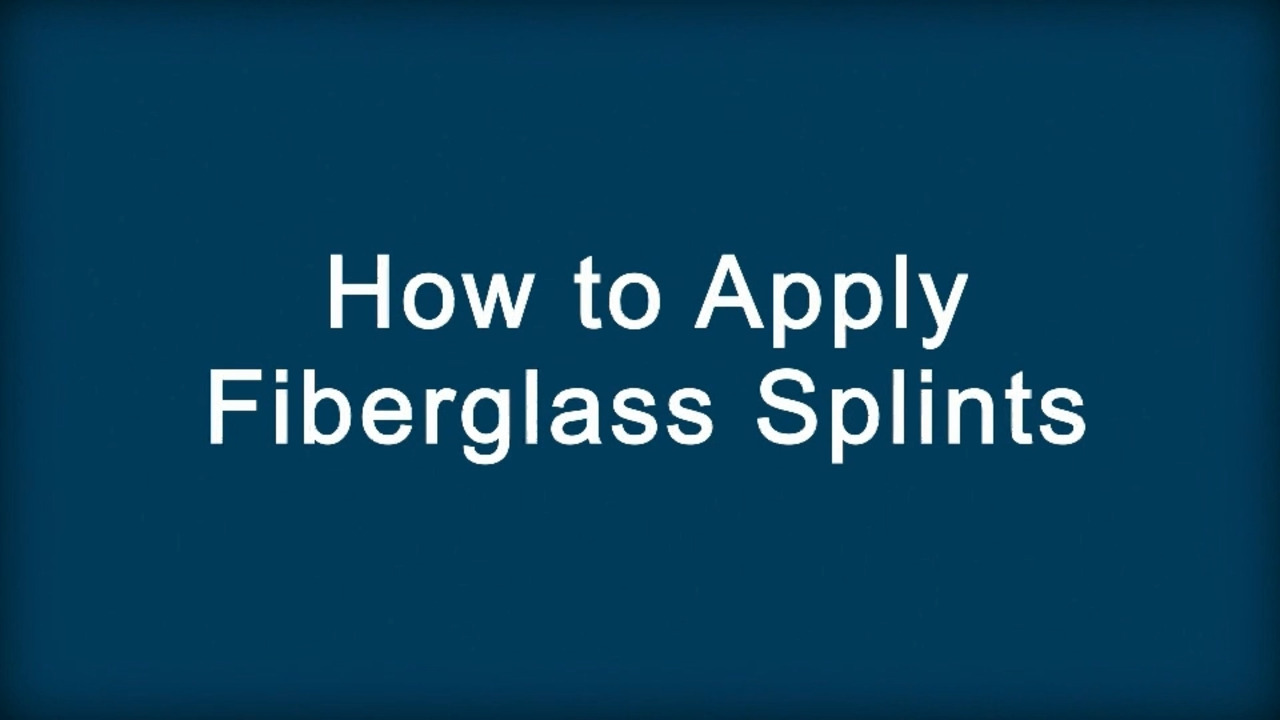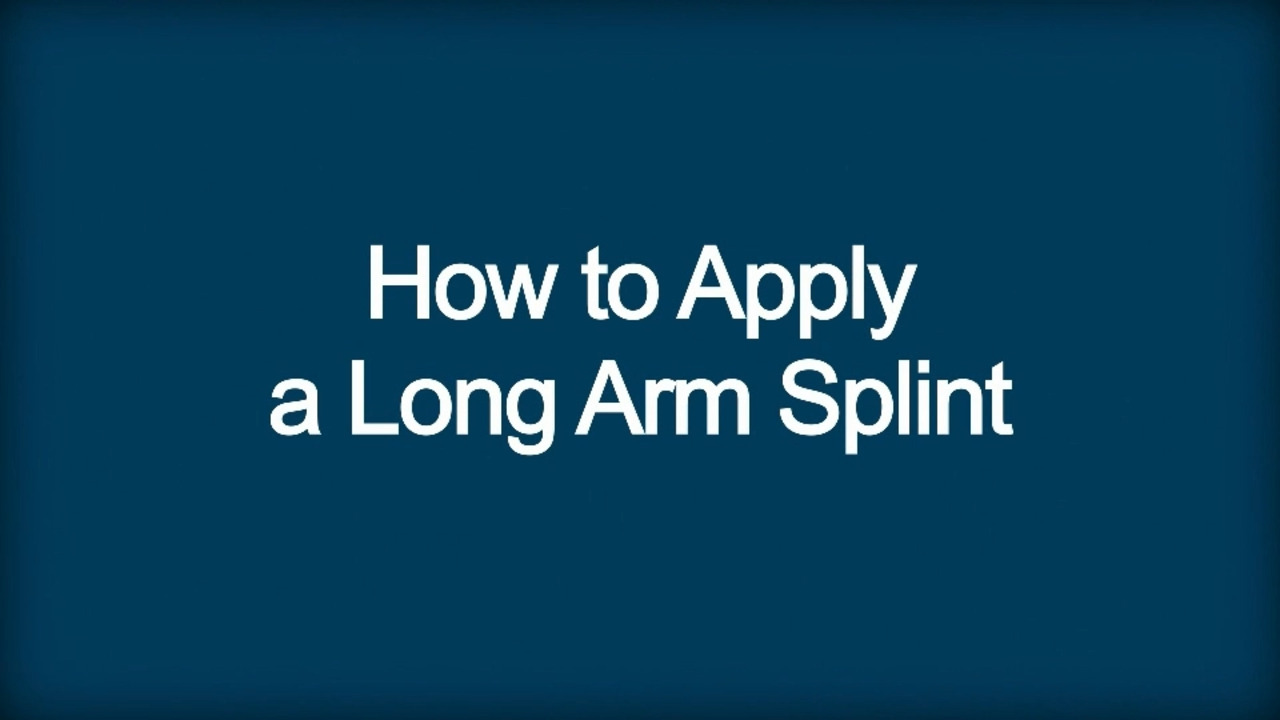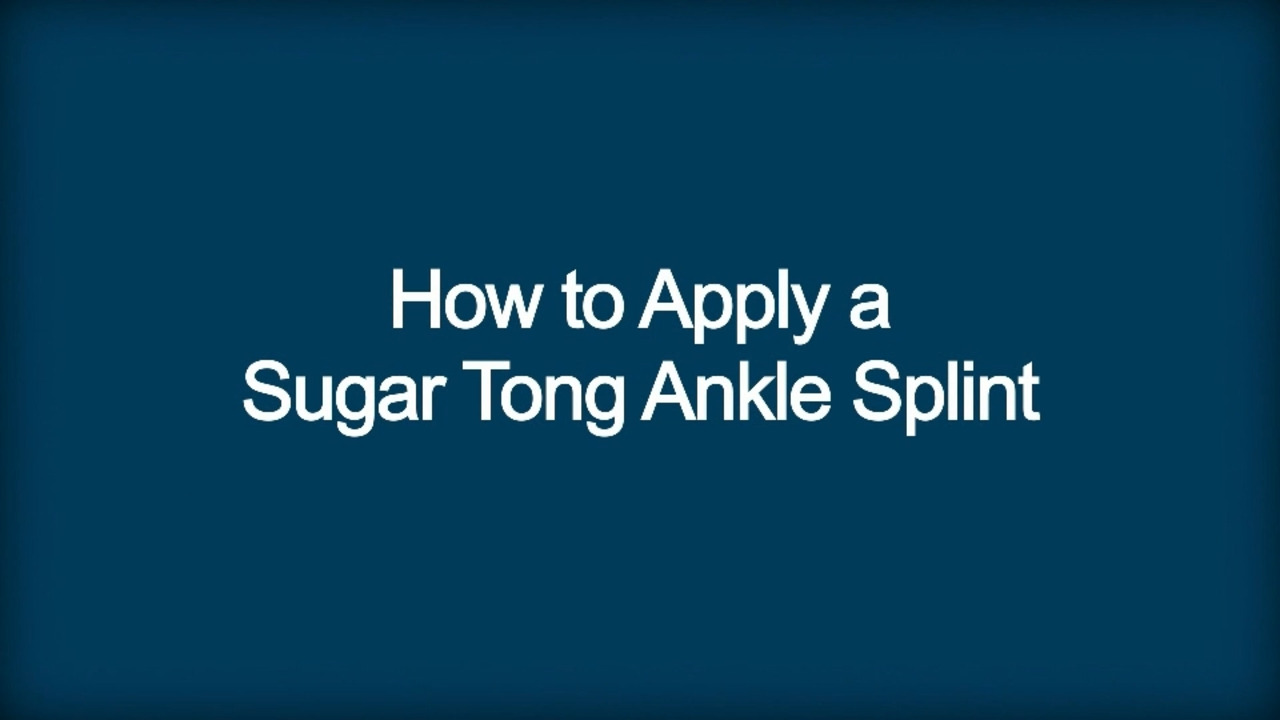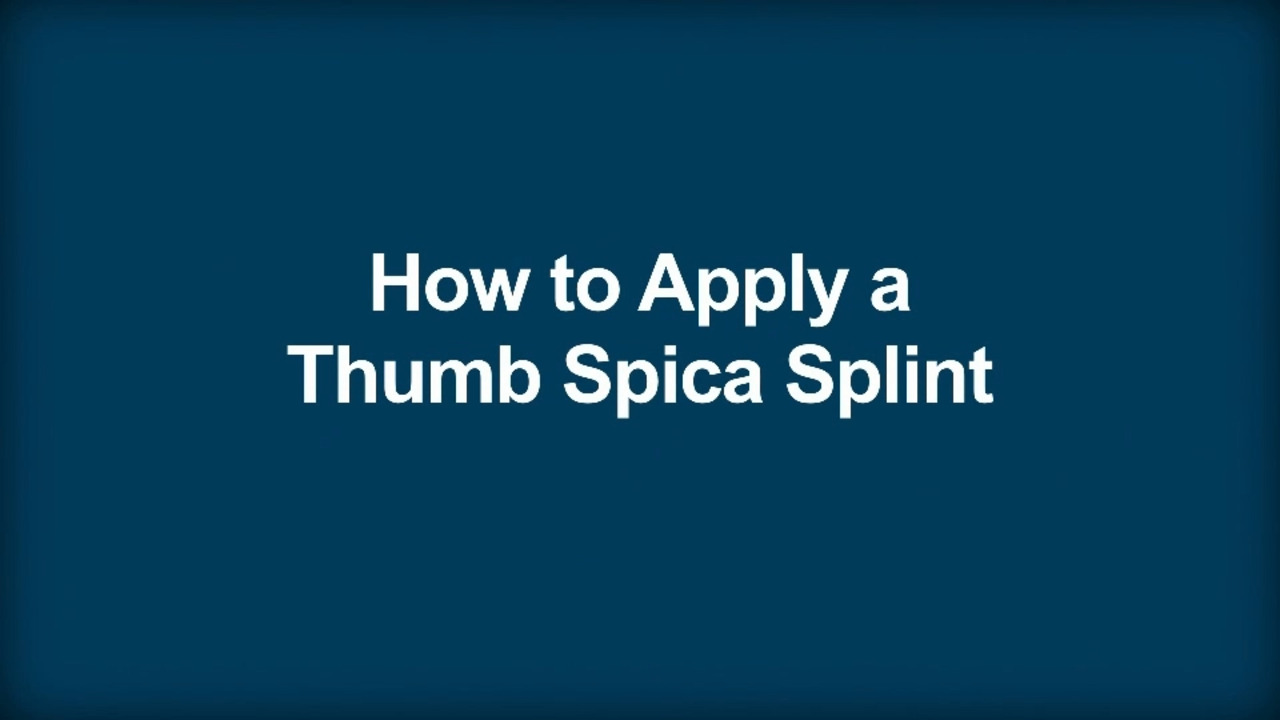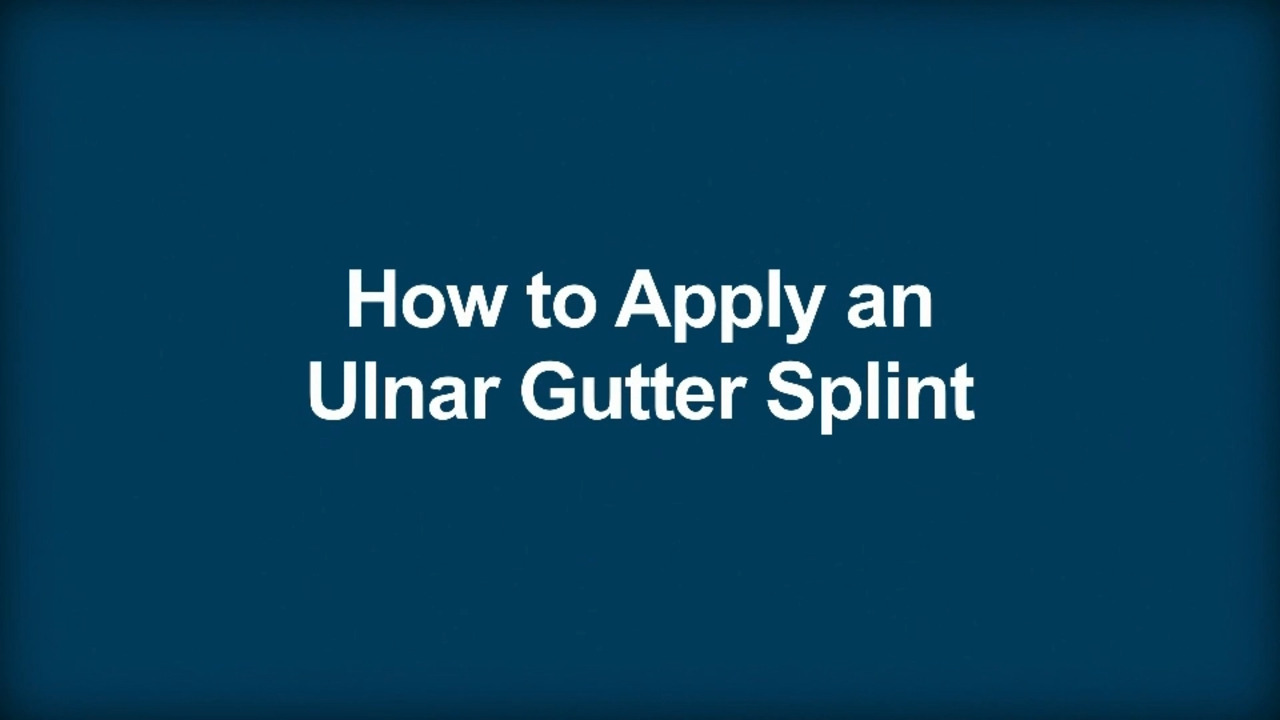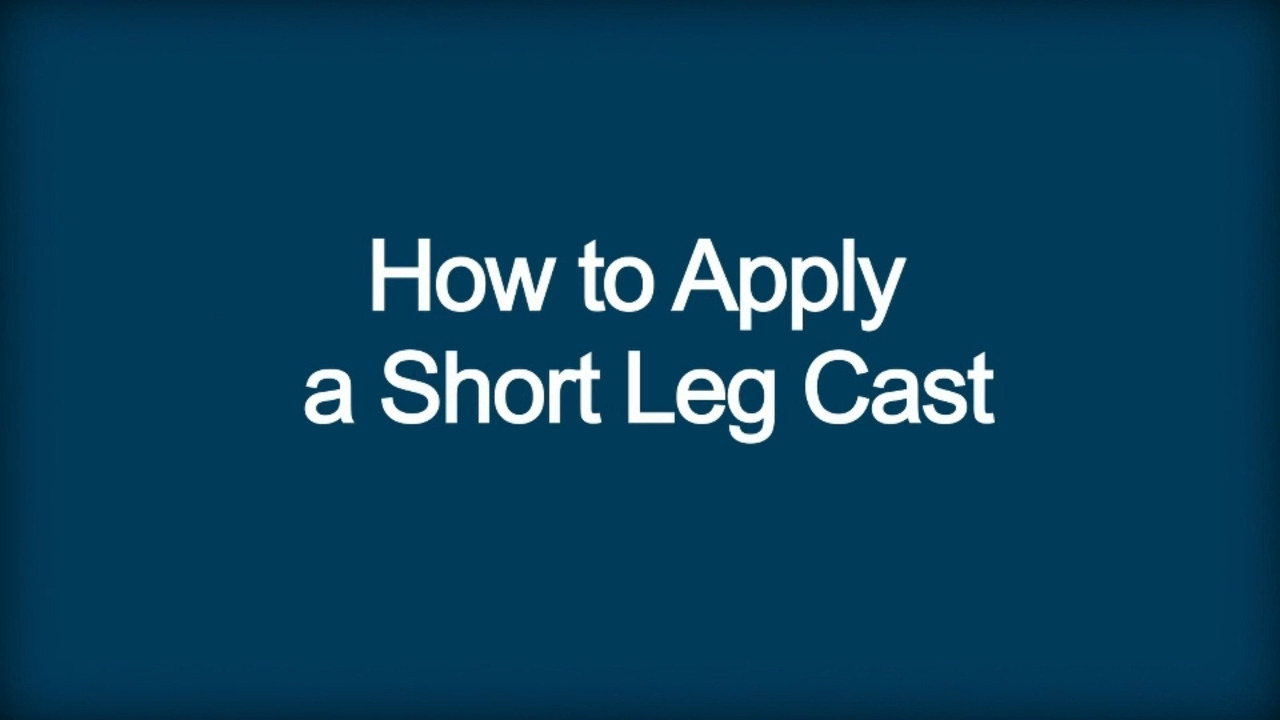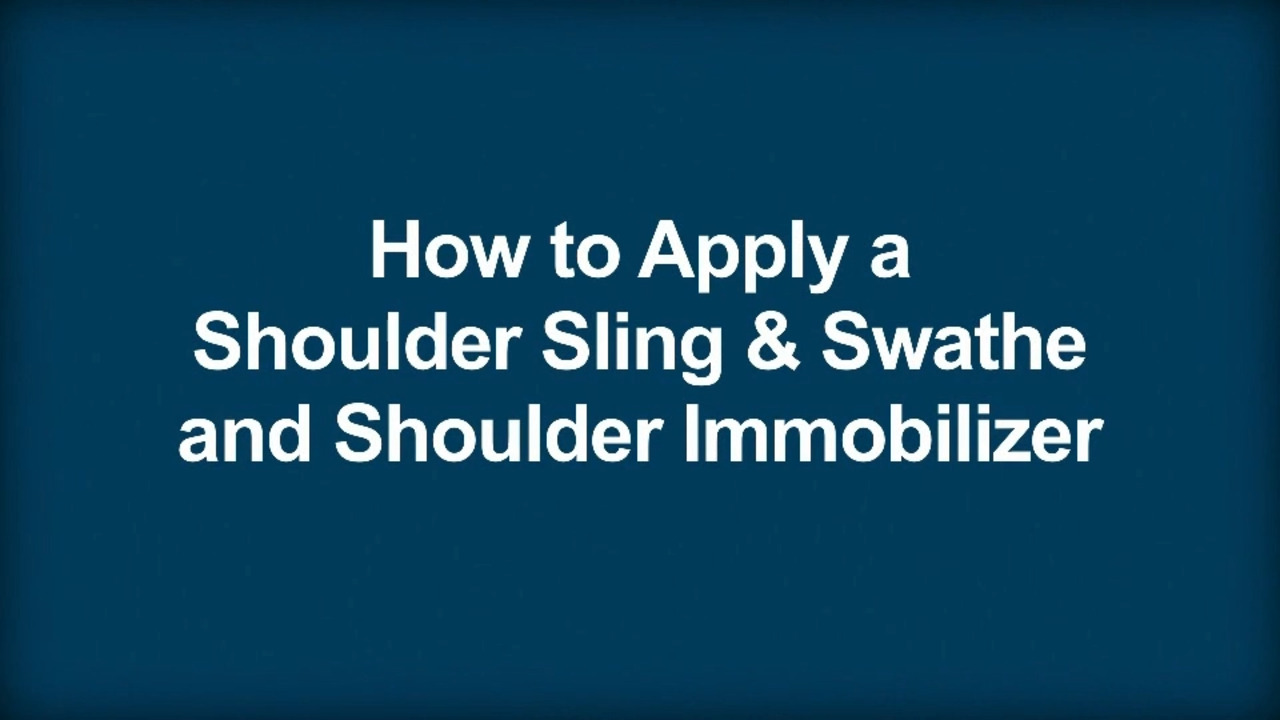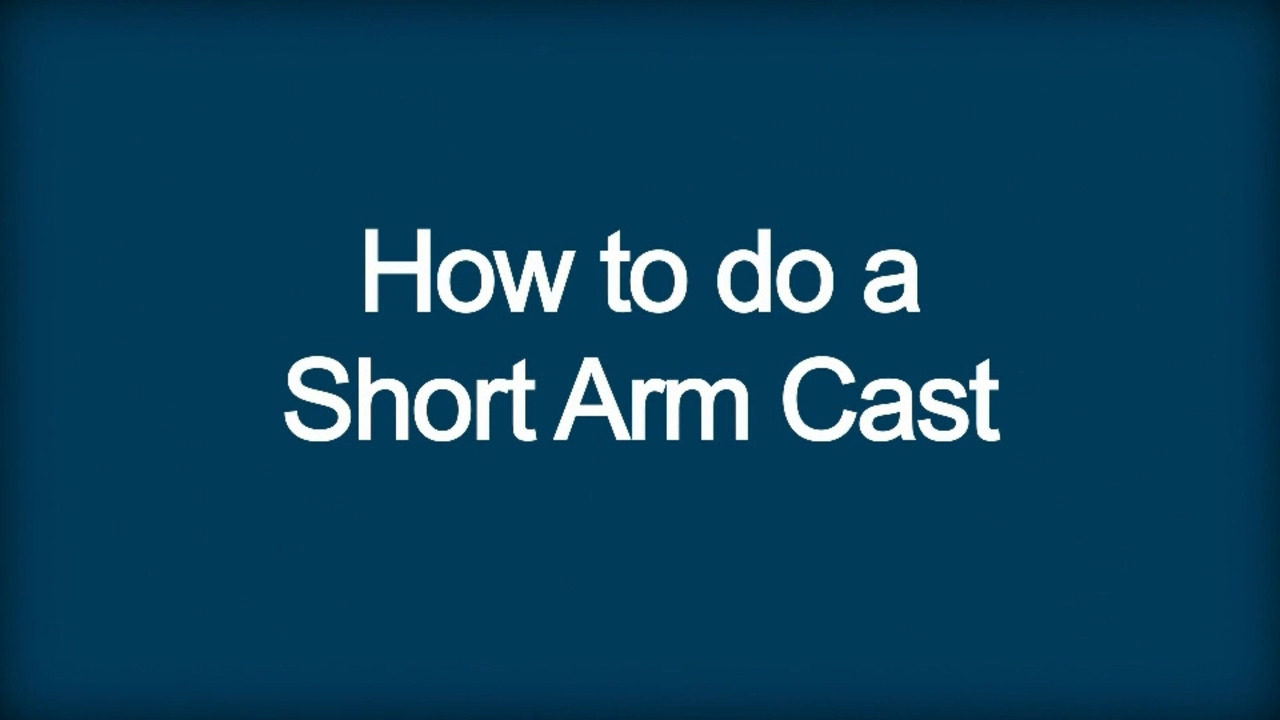 Joint immobilization as acute treatment: Some commonly used techniques
A sling provides some degree of support and comfort and limits mobility; it can be useful for certain fractures (eg, minimally displaced clavicle fractures, certain proximal humerus fractures), particularly if complete immobilization is undesirable (eg, for shoulder injuries, which, if completely immobilized, can rapidly lead to adhesive capsulitis [frozen shoulder]).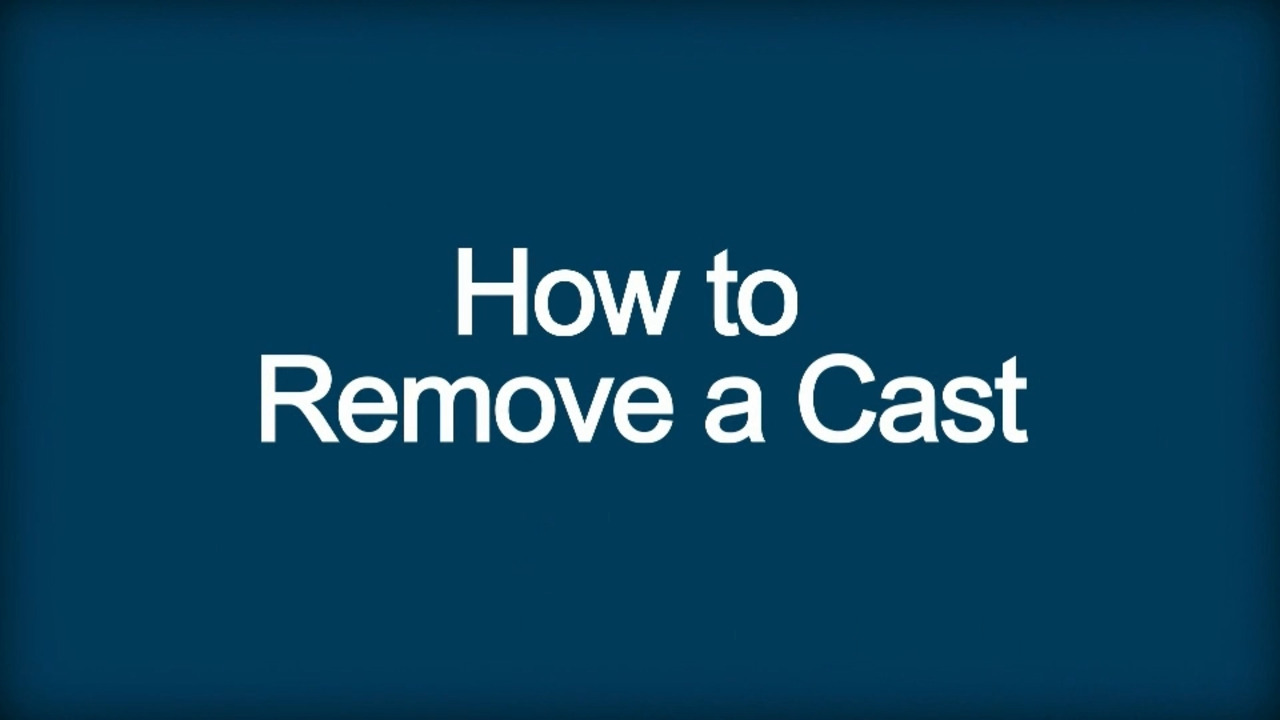 A swathe (a piece of cloth or a strap) may be used with a sling to prevent the arm from swinging outward, especially at night. The swathe is wrapped around the back and over the injured part. A swathe is sometimes used with a sling to immobilize one-part proximal humeral fractures.
Bed rest Bed Rest Effects A hospital may provide emergency medical care, diagnostic testing, intensive treatment, or surgery, which may or may not require admission. Older patients use hospitals more than younger patients... read more , which is occasionally required for fractures (eg, some vertebral or pelvic fractures), can cause problems (eg, deep venous thrombosis, urinary tract infection, muscle deconditioning).
Prolonged immobilization (> 3 to 4 weeks for young adults) of a joint can cause stiffness, contractures, and muscle atrophy and is usually not recommended. These complications may develop rapidly and may be permanent, particularly in older people. Some rapidly healing injuries are best treated with resumption of active motion within the first few days or weeks; such early mobilization may minimize contractures and muscle atrophy, thus accelerating functional recovery. Splints and casts should immobilize joints in positions that optimize the likelihood of return of full function (eg, immobilization of the metacarpophalangeal [MCP] joints should position the MCP joints in flexion to maintain lengthening of the hand tendons).
Physical therapists can advise patients about what they can do during immobilization to maintain as much function as possible. After immobilization, physical therapists can provide patients with exercises to improve range of motion and muscle strength, strengthen and stabilize the injured joint, and thus help prevent recurrence and long-term impairment.
Other procedures
Joint replacement (arthroplasty) may be needed, usually when fractures severely damage the upper end of the femur or the humerus.
Bone grafting may be done immediately if the gap between fragments of bone is too large. It may be done later if healing is delayed (delayed union) or does not occur (nonunion).
Treatment references
1. Lack WD, Karunakar MA, Angerame MR, et al: Type III open tibia fractures: immediate antibiotic prophylaxis minimizes infection. J Orthop Trauma 29(1):1–6, 2015. doi: 10.1097/BOT.0000000000000262. Erratum in: J Orthop Trauma 29(6):e213, 2015. PMID: 25526095

2. Beaudoin FL, Haran JP, Liebmann O: A comparison of ultrasound-guided three-in-one femoral nerve block versus parenteral opioids alone for analgesia in emergency department patients with hip fractures: A randomized controlled trial. Acad Emerg Med 20(6):584–591, 2013. doi: 10.1111/acem.12154
Geriatrics Essentials: Fractures
Older people are predisposed to fractures because of the following:
A tendency to fall frequently (eg, due to age-related loss of proprioception, adverse effects of drugs on proprioception or postural reflexes, orthostatic hypotension)

Impaired protective reflexes during falls

Osteoporosis, which becomes more common with aging
Age-related fractures include fractures of the distal radius, proximal humerus, pelvis, proximal femur, and vertebrae.
For older patients, the goal of treatment is rapid return to activities of daily living rather than restoration of perfect limb alignment and length.
Because immobility (joint immobilization or bed rest) is more likely to have adverse effects in older patients, use of open reduction with internal fixation (ORIF) to treat fractures is increasing.
Early mobilization (made possible by ORIF) and physical therapy are essential to recovery of function.
Coexisting disorders (eg, arthritis) can interfere with recovery.
Key Points
Fractures that disrupt arterial supply and compartment syndrome threaten limb viability and may ultimately threaten life.

Check for ligament, tendon, and muscle injuries as well as fractures; the presence of a fracture may limit or delay this evaluation.

Examine the joints above and below the injured area.

Consider referred pain, particularly if physical findings are normal in a joint that patients identify as painful (eg, knee pain in patients with a hip fracture).

For many distal extremity injuries (eg, some injuries in toes 2 through 5, some ankle sprains), x-rays are not necessary to check for fractures because the presence of a fracture would not change treatment.

Consider MRI (sometimes CT) when x-rays are normal but a fracture is strongly suspected clinically (eg, in an older person who has hip pain and cannot walk after a fall and initial x-rays are normal).

Immediately treat serious associated injuries, splint unstable fractures, and, as soon as possible, treat pain and reduce certain angulated or displaced fractures.

Immobilize unstable fractures immediately; use a cast or splint to immobilize all fractures that require reduction as soon as they are reduced.

Treat fractures with PRICE (protection, rest, ice, compression, elevation).

Provide patients with explicit, written instructions about cast care.

When treating older patients, usually choose the method that results in the earliest mobilization.