Topic Resources
Appendicitis is inflammation and infection of the appendix.
Often a blockage inside the appendix causes the appendix to become inflamed and infected.

Abdominal pain, nausea, and fever are common.

Exploratory surgery or an imaging test, such as computed tomography or ultrasonography, is done.

Treatment involves surgery to remove the appendix and antibiotics to treat the infection.
The appendix is a small finger-shaped tube projecting from the large intestine near the point where it joins the small intestine. The appendix may have some immune function, but it is not an essential organ.
Appendicitis is the most common cause of sudden, severe abdominal pain and abdominal surgery in the United States. Over 5% of the population develops appendicitis at some point. Appendicitis most commonly occurs during adolescence and in the 20s but may occur at any age.
The cause of appendicitis is not fully understood. However, in most cases, a blockage inside the appendix probably starts a process. The blockage may be from a small, hard piece of stool (fecalith), a foreign body, or, rarely, even worms. As a result of the blockage, the appendix becomes inflamed and infected. If inflammation continues without treatment, the appendix can rupture. A ruptured appendix may cause a pus-filled pocket of infection (abscess Abdominal Abscesses An abscess is a pocket of pus, usually caused by a bacterial infection. Most people have constant abdominal pain and a fever. Computed tomography or another imaging test can distinguish an abscess... read more ) to form. As a result, peritonitis Peritonitis Abdominal pain is common and often minor. Severe abdominal pain that comes on quickly, however, almost always indicates a significant problem. The pain may be the only sign of the need for surgery... read more (inflammation and usually infection of the abdominal cavity, which may result in a life-threatening infection) may develop. In a woman, the ovaries and fallopian tubes may become infected, and the resulting scarring may block the fallopian tubes and cause infertility. A ruptured appendix also may allow bacteria to infect the bloodstream—a life-threatening condition called sepsis Sepsis and Septic Shock Sepsis is a serious bodywide response to bacteremia or another infection plus malfunction or failure of an essential system in the body. Septic shock is life-threatening low blood pressure ... read more .
Show Details
Hide Details
Appendicitis (https://www.youtube.com/watch?v=r9amif1DQMc) by Osmosis (https://open.osmosis.org/) is licensed under CC-BY-SA 4.0 (https://creativecommons.org/licenses/by-sa/4.0/).
Symptoms of Appendicitis
Fewer than 50% of people with appendicitis have the traditionally described symptoms in which pain begins in the upper abdomen or around the navel, then nausea and vomiting develop, and then, after a few hours, the nausea passes, and the pain shifts to the right lower portion of the abdomen. When a doctor presses on this area, it is tender, and when the pressure is released, the pain may increase sharply (rebound tenderness). A fever of 100° to 101° F (37.7° to 38.3° C) is common. Moving and coughing increase the pain.
In many people, particularly infants and children, the pain may be widespread rather than confined to the right lower portion of the abdomen. In older people and in pregnant women, the pain may be less severe, and the area is less tender.
Did You Know...
In the United States, over 5% of the population eventually develops appendicitis.
Prognosis for Appendicitis
With an early operation, the chance of death from appendicitis is very low. The person can usually leave the hospital in 1 to 3 days, and recovery is normally quick and complete. However, older people often take longer to recover.
Without surgery or antibiotics (as might occur in a person in a remote location without access to modern medical care), more than 50% of people with appendicitis die.
For a ruptured appendix, the prognosis is more serious. Decades ago, a rupture was often fatal. Surgery and antibiotics have lowered the death rate to nearly zero, but repeated operations and a long recovery may be necessary.
Treatment of Appendicitis
Surgical removal of the appendix

Antibiotics and fluids by vein
Surgery is the main treatment of appendicitis. Delaying surgery until the cause of the abdominal pain is certain can be fatal: An infected appendix can rupture less than 36 hours after symptoms begin.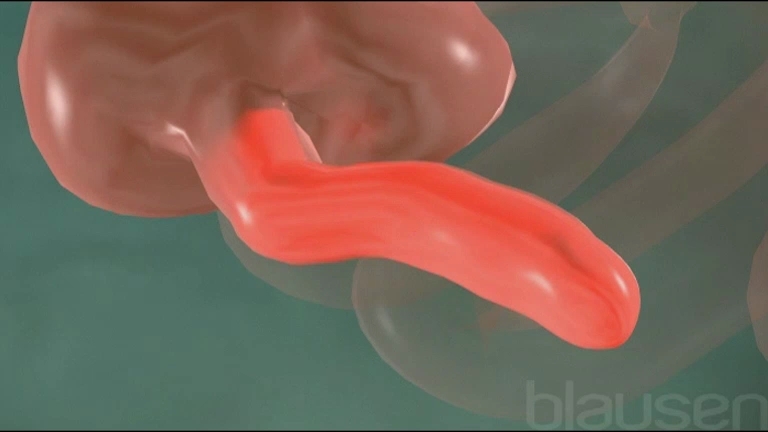 If appendicitis is found, fluids and antibiotics are given by vein and the appendix is removed (appendectomy). If the doctor does an operation and appendicitis is not found, the appendix is usually removed anyway to prevent any future risk of appendicitis.
There has been recent interest in treating appendicitis only with antibiotics, so that surgery can be postponed or avoided. Although this treatment may be successful in some people, it is still being studied, and surgical removal of the appendix is still considered the most effective and thus usually the recommended treatment for appendicitis.
VIEW PROFESSIONAL VERSION