Topic Resources
What is bronchoscopy?
Bronchoscopy is a test used to look inside your lungs. After giving you medicine to make you sleepy, the doctor puts a flexible scope down your nose or mouth into your lungs. Through the scope the doctor can:
See where in your lungs any bleeding is coming from

Get samples of mucus to check for infection

Take a small piece of tissue to check for cancer

Remove a foreign body from your lungs
Bronchoscopy
To view the airways directly, a doctor passes a flexible bronchoscope through a person's nostril and down into the airways. The area in the pink circle shows what the doctor sees.
Flexible Bronchoscopy: Insertion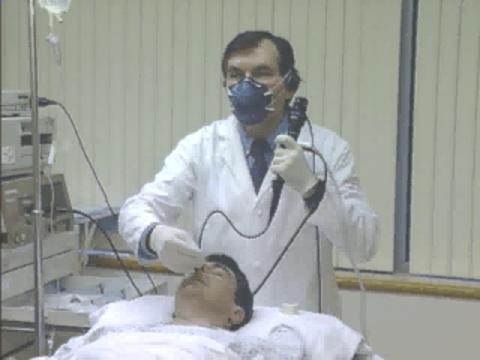 What happens during bronchoscopy?
Before the procedure you're given medicines to relax you or sometimes put you to sleep. For your safety, you shouldn't eat for at least 6 hours before the bronchoscopy.
Doctors spray a numbing medicine in your throat

Doctors thread the small flexible tube through your nose or mouth and into your lungs
Doctors can do several procedures during a bronchoscopy, such as:
Push salt water into your lung and then suction it back out to look for infection or cancer cells

Take a biopsy (a sample of tissue to look at under a microscope) with forceps or a needle that's passed through the scope
Why do doctors do bronchoscopy?
Doctors use a bronchoscopy to look for problems such as:
Lung damage from breathing in smoke

A foreign body that you choked on, such as a peanut
VIEW PROFESSIONAL VERSION