Topic Resources
Electrophysiologic testing is used to evaluate serious abnormalities in heart rhythm or electrical conduction (see Overview of Abnormal Heart Rhythms Overview of Abnormal Heart Rhythms Abnormal heart rhythms (arrhythmias) are sequences of heartbeats that are irregular, too fast, too slow, or conducted via an abnormal electrical pathway through the heart. Heart disorders are... read more
).
In people in whom an arrhythmia is already documented or is highly suspected, a doctor intentionally provokes an abnormal heart rhythm during testing to find out whether a particular drug can stop the disturbance or whether an operation will help by eliminating abnormal electrical connections within the heart. If necessary, a doctor can quickly restore a normal rhythm with a brief electrical shock to the heart (cardioversion Cardioversion-Defibrillation There are many causes of abnormal heart rhythms (arrhythmias). Some arrhythmias are harmless and do not need treatment. Sometimes arrhythmias stop on their own or with changes in lifestyle,... read more
). Although electrophysiologic testing is an invasive procedure and an anesthetic is required, the procedure is very safe: The risk of death is 1 in 5,000. This procedure usually takes 1 to 2 hours.
How electrophysiologic testing is done
Testing is done in the hospital. After injecting a local anesthetic, a doctor inserts a catheter with tiny electrodes at its tip through a needle puncture of a vein in the groin, arm, or neck. The catheter is threaded through the major blood vessels into the heart chambers, using fluoroscopy (a continuous x-ray procedure) for guidance. The catheter is used to record the electrocardiogram (ECG) from within the heart and to identify the precise location of the electrical conduction pathways.
Cryoablation is similar to radiofrequency ablation but uses freezing rather than heat to destroy any abnormal electrical connections.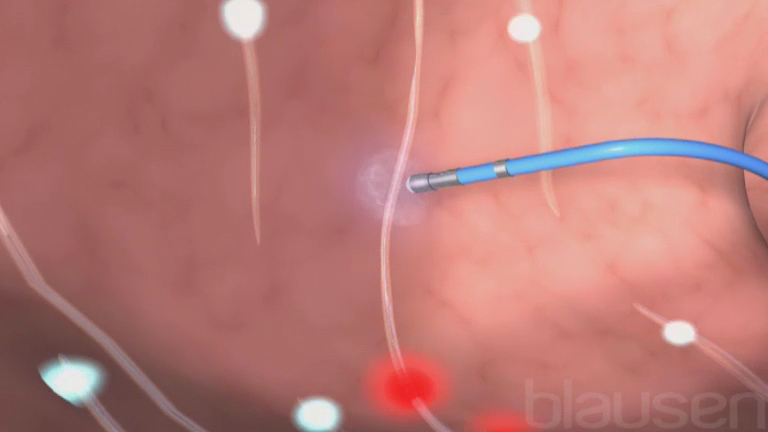 VIEW PROFESSIONAL VERSION