Topic Resources
Gas Exchange Between Alveoli and Capillaries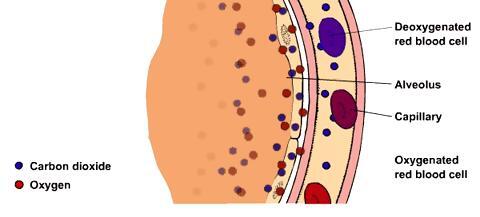 Gas Exchange Between Alveolar Spaces and Capillaries
The function of the respiratory system is to move two gases: oxygen and carbon dioxide. Gas exchange takes place in the millions of alveoli in the lungs and the capillaries that envelop them. As shown below, inhaled oxygen moves from the alveoli to the blood in the capillaries, and carbon dioxide moves from the blood in the capillaries to the air in the alveoli.
Three processes are essential for the transfer of oxygen from the outside air to the blood flowing through the lungs: ventilation, diffusion, and perfusion.
Ventilation is the process by which air moves in and out of the lungs.

Diffusion is the spontaneous movement of gases, without the use of any energy or effort by the body, between the alveoli and the capillaries in the lungs.

Perfusion is the process by which the cardiovascular system pumps blood throughout the lungs.
VIEW PROFESSIONAL VERSION