Topic Resources
Liver tumors may be noncancerous (benign) or cancerous (malignant).
Cancerous liver tumors are classified as primary Primary Liver Cancers Primary liver cancers are cancers that originate in the liver. The most common is hepatocellular carcinoma (hepatoma). At first, liver cancer usually causes only vague symptoms (such as weight... read more (originating in the liver) or metastatic Metastatic Liver Cancer Metastatic liver cancer is a cancer that has spread to the liver from elsewhere in the body. Weight loss and a poor appetite may be the first symptoms. Doctors base the diagnosis on results... read more
(spreading from elsewhere in the body). Most liver cancers are metastatic. Cancers often spread to the liver because when cancer cells break away from cancer elsewhere in the body, they often enter and travel through the bloodstream, and the liver filters most of the blood from the rest of the body.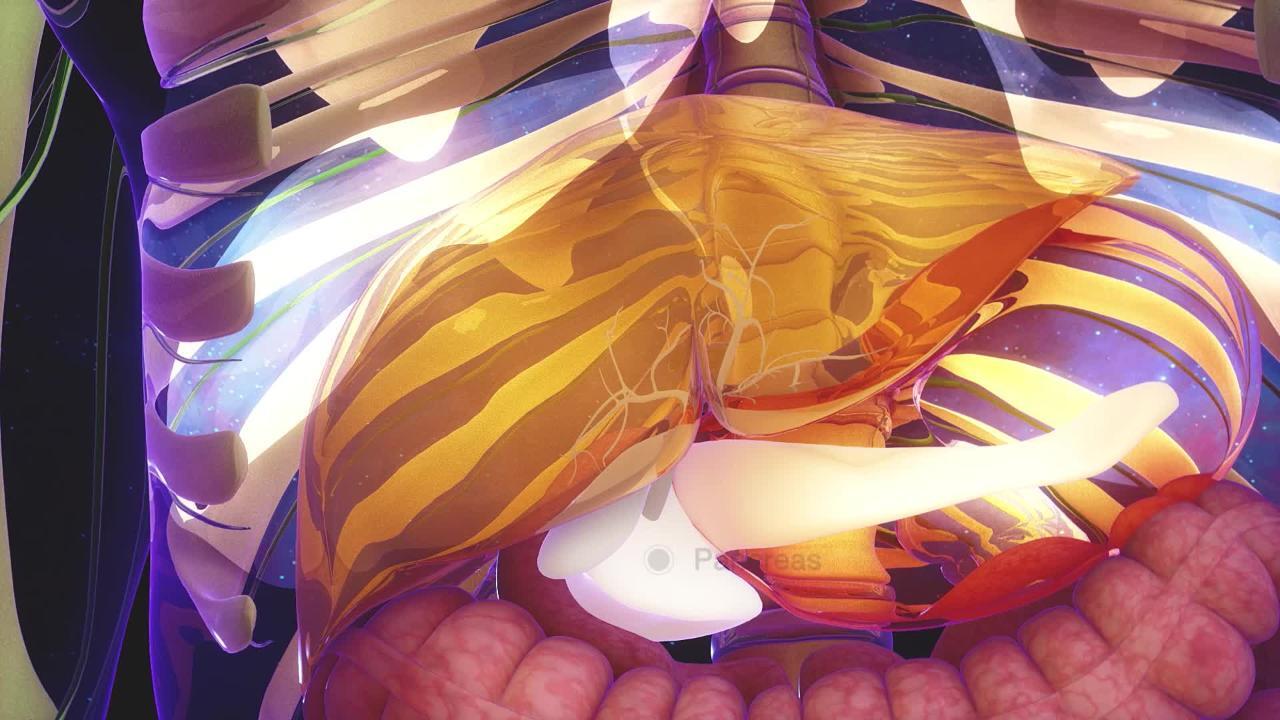 Noncancerous liver tumors are relatively common and usually cause no symptoms. However, rarely, these tumors cause discomfort in the upper right part of the abdomen or cause the liver to enlarge or to bleed into the abdominal cavity. Noncancerous liver tumors include
Most noncancerous tumors are detected only when an imaging test Imaging Tests of the Liver and Gallbladder Imaging tests of the liver, gallbladder, and biliary tract include ultrasonography, radionuclide scanning, computed tomography (CT), magnetic resonance imaging (MRI), endoscopic retrograde cholangiopancreatography... read more —such as ultrasonography, computed tomography (CT), or magnetic resonance imaging (MRI)—is done for an unrelated reason. The liver usually functions normally even when a noncancerous tumor is present. Thus, results of blood tests to evaluate the liver Liver Blood Tests Liver tests are blood tests that represent a noninvasive way to screen for the presence of liver disease (for example, hepatitis in donated blood) and to measure the severity and progress of... read more are usually normal. Treatment may or may not be needed.
Did You Know...
Most liver cancers start in other parts of the body.

Most noncancerous liver tumors are detected unexpectedly, when an imaging test, such as ultrasonography, is done for another reason.
Cysts
Fluid-filled sacs (cysts) sometimes form in the liver. Most cause no symptoms or health problems. They are detected incidentally by imaging tests.
More Information
The following English-language resources may be useful. Please note that THE MANUAL is not responsible for the content of these resources.
American Cancer Society: Provides comprehensive information about liver cancer, including its symptoms, diagnosis, staging, and survival rates.

American Liver Foundation: Hosts community education programs that give an overview of all aspects of liver disease and wellness. Also provides access to support groups, information on finding a physician, and opportunities to participate in clinical trials.
VIEW PROFESSIONAL VERSION