Topic Resources
Ischemic optic neuropathy is damage of the optic nerve caused by a blockage of its blood supply.
Causes of Ischemic Optic Neuropathy
The Retina and Optic Nerve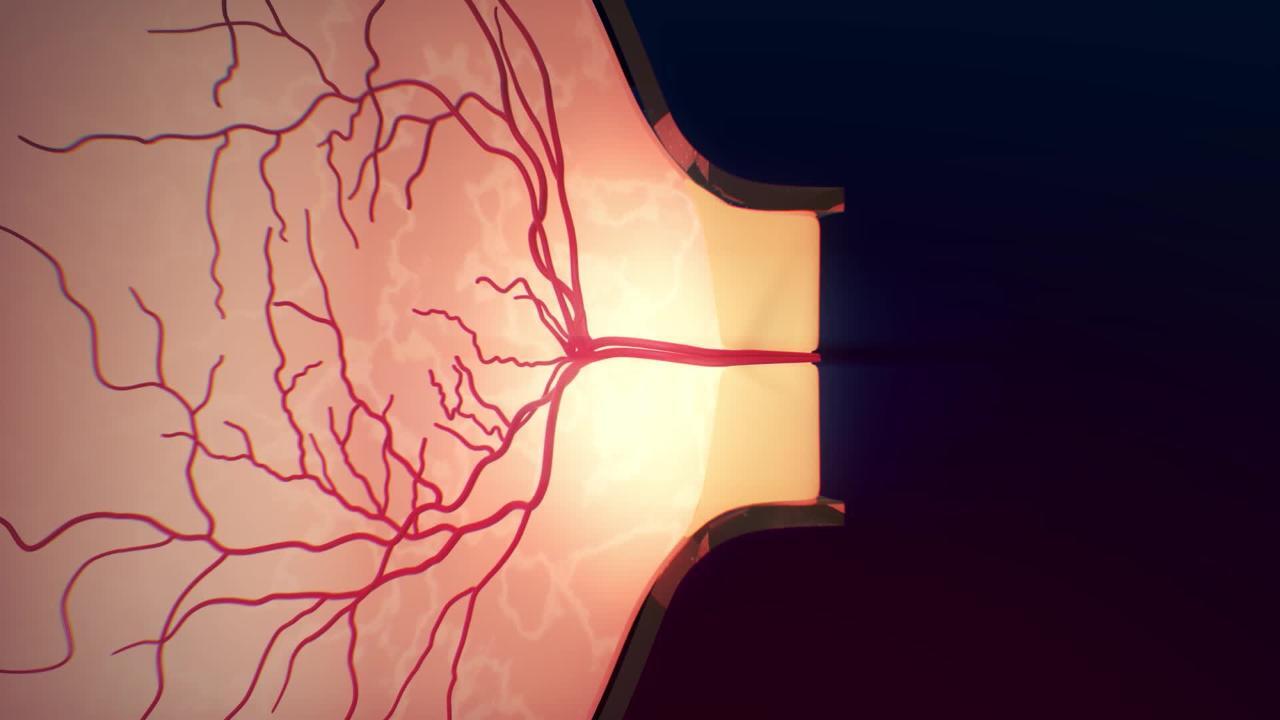 Blockage of the blood supply to the part of the optic nerve within the eye can lead to impaired function of optic nerve cells and vision loss. Two types can occur: nonarteritic and arteritic.
Nonarteritic ischemic optic neuropathy occurs more frequently and usually occurs in people about age 50 and older. Vision loss is not usually as severe as in arteritic ischemic optic neuropathy. Risk factors include an anatomically congested optic nerve (small cup-to-disc ratio), high blood pressure High Blood Pressure High blood pressure (hypertension) is persistently high pressure in the arteries. Often no cause for high blood pressure can be identified, but sometimes it occurs as a result of an underlying... read more
, smoking Smoking and Other Tobacco Use Tobacco use is a major individual and public health problem. Using tobacco is harmful to almost every organ in the body. Tobacco is used because of the effects of nicotine. Nicotine is highly... read more , diabetes Diabetes Mellitus (DM) Diabetes mellitus is a disorder in which the body does not produce enough or respond normally to insulin, causing blood sugar (glucose) levels to be abnormally high. Symptoms of diabetes may... read more , and atherosclerosis Atherosclerosis . Other risk factors may include obstructive sleep apnea Sleep Apnea Sleep apnea is a serious disorder in which breathing repeatedly stops long enough to disrupt sleep and often temporarily decrease the amount of oxygen and increase the amount of carbon dioxide... read more
, use of certain drugs (for example, amiodarone and possibly phosphodiesterase-inhibiting drugs, such as sildenafil, which are used to treat erectile dysfunction Erectile Dysfunction (ED) Erectile dysfunction (ED) is the inability to attain or sustain an erection satisfactory for sexual intercourse. (See also Overview of Sexual Dysfunction in Men.) Every man occasionally has... read more ), a tendency to develop blood clots, and low blood pressure at night.
Symptoms of Ischemic Optic Neuropathy
Loss of vision is usually rapid (over minutes, hours, or rarely days) but is painless. Depending on the cause, vision may be impaired in one or both eyes. Vision in the involved eye or eyes can range from almost normal to complete blindness.
Diagnosis of Ischemic Optic Neuropathy
A doctor's evaluation, including visual field examination

For giant cell arteritis, blood tests and biopsy

Sometimes imaging or other tests
Diagnosis involves examination of the back of the eyes with a light with magnifying lenses (ophthalmoscope) and a visual field examination to measure central or peripheral vision loss. The head of the optic nerve at the back of the eye (optic disc will be swollen. Determining the cause involves determining whether the person has any of the disorders known to be risk factors.
Other tests may be necessary depending on what causes are likely. For example, if people have symptoms of obstructive sleep apnea (such as excessive daytime sleepiness or snoring), polysomnography Testing may be done. If people have had blood clots, blood tests may be done to diagnose blood-clotting disorders.
Prognosis for Ischemic Optic Neuropathy
There is no effective treatment for nonarteritic ischemic optic neuropathy. However, about one third of people with nonarteritic ischemic optic neuropathy have partial improvement of their vision spontaneously. In this condition, repeat episodes in the same eye are rare, but the other eye is affected in 15 to 20% of people.
Treatment of Ischemic Optic Neuropathy
For nonarteritic ischemic optic neuropathy, control of risk factors for atherosclerosis

For arteritic ischemic optic neuropathy caused by giant cell arteritis, corticosteroids and tocilizumab
In people with nonarteritic ischemic optic neuropathy, treatment to restore vision loss is ineffective. Treatment involves reducing risk factors for atherosclerosis Atherosclerosis , including controlling blood pressure and diabetes. Other causes, such as blood-clotting disorders and obstructive sleep apnea, may also require treatment.
Magnifiers, large-print devices, and talking watches (low-vision aids) may help people with loss of vision.
Drugs Mentioned In This Article
| Generic Name | Select Brand Names |
| --- | --- |
| amiodarone | Cordarone, Nexterone, Pacerone |
| sildenafil | LiQrev, Revatio, Viagra |
| tocilizumab | Actemra |
VIEW PROFESSIONAL VERSION