Topic Resources
Regular exercise makes the heart stronger and the lungs fitter, enabling the cardiovascular system to deliver more oxygen to the body with every heartbeat and the pulmonary system to increase the maximum amount of oxygen that the lungs can take in. Exercise has also been shown to have the following benefits:
Somewhat decreases the levels of total and low-density lipoprotein (LDL) cholesterol (the bad cholesterol)

Increases the level of high-density lipoprotein (HDL) cholesterol (the good cholesterol)
Does Exercise Help Decrease Insomnia?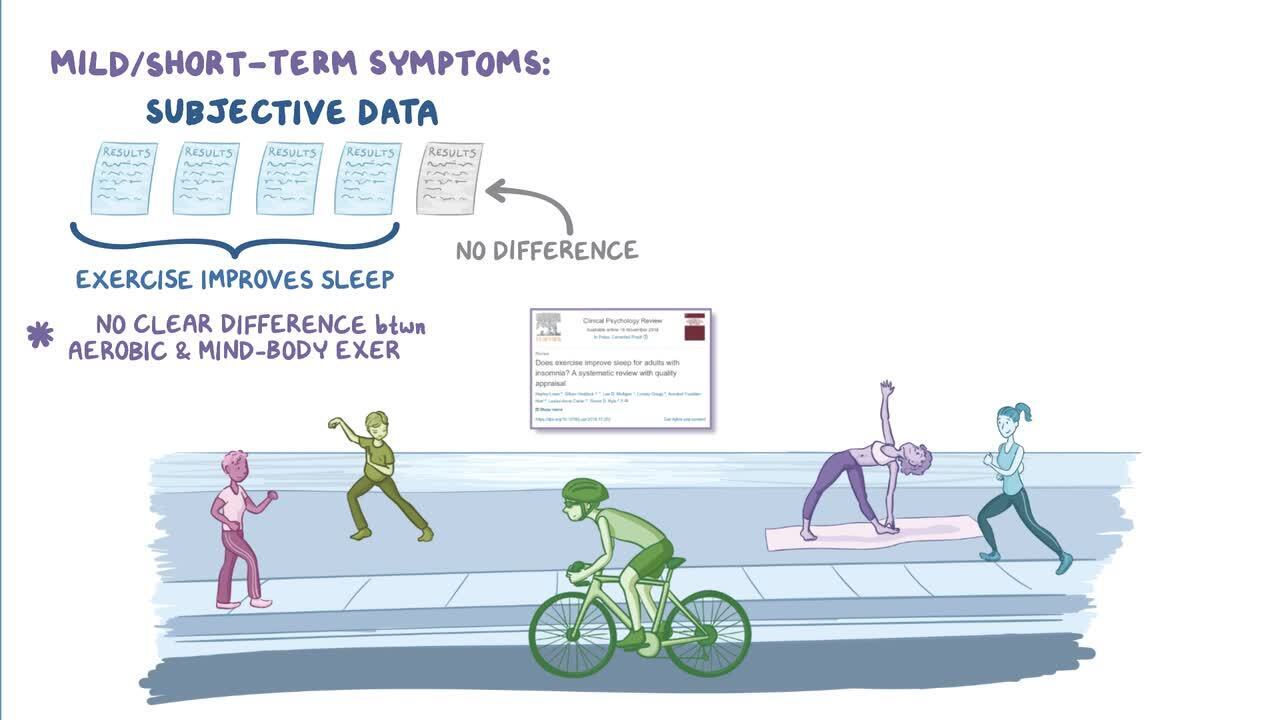 These beneficial effects in turn decrease the risk of heart attack, stroke, and coronary artery disease. In addition, colon cancer and some forms of diabetes are less likely to occur in people who exercise regularly. In short, regular exercise is one of the best things that people can do to help prevent illness, maintain healthy body weight, preserve health and longevity, and enhance quality of life.
Exercise makes muscles stronger, allowing people to do tasks that they otherwise might not be able to do or to do them more easily. Every physical task requires muscle strength and some degree of range of motion in joints. Regular exercise can improve both of these qualities.
Exercise stretches muscles and joints, which in turn can increase flexibility and help prevent injuries. Exercise may also improve balance by increasing strength of the tissues around joints and throughout the body, thus helping to prevent falls Falls in Older Adults A fall is defined as unintentionally or accidentally dropping down to the ground or another lower level. Most falls occur when older adults with one or more physical conditions that impair mobility... read more . Weight-bearing exercise, such as brisk walking and weight training, strengthens bones and helps prevent osteoporosis Osteoporosis Osteoporosis is a condition in which a decrease in the density of bones weakens the bones, making breaks (fractures) likely. Aging, estrogen deficiency, low vitamin D or calcium intake, and... read more
. Exercise often can improve function and reduce pain in people with osteoarthritis Osteoarthritis (OA) Osteoarthritis is a chronic disorder that causes damage to the cartilage and surrounding tissues and is characterized by pain, stiffness, and loss of function. Arthritis due to damage of joint... read more
, although regimens must be developed specifically for each person, and exercises that put undue strain on joints, such as jumping and running, may need to be avoided.
Did You Know...
Most frail, older people benefit from exercise at least as much as younger people.
The benefits of exercise begin to diminish within weeks after a person stops exercising. Heart strength, muscle strength, and the level of HDL cholesterol decrease, whereas blood pressure and body fat increase. Even former athletes who stop exercising do not retain measurable long-term benefits. However, people who were physically active in the past often can regain fitness faster.
Other reasons for exercise
In addition to recommending exercise for general health and well-being, doctors may prescribe specific exercise plans in some situations. Before elective surgery, doctors may recommend people participate in exercise routines to enhance their recovery from surgery. Doctors also prescribe specific exercise programs to rehabilitate people after serious injuries or disorders such as heart attacks, strokes, major surgery, or injury (see Overview of Rehabilitation Overview of Rehabilitation Rehabilitation services are needed by people who have lost the ability to function normally, often because of an injury, a stroke, an infection, a tumor, surgery, or a progressive disorder ... read more ).
VIEW PROFESSIONAL VERSION